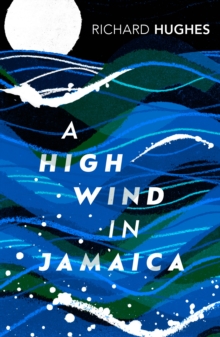 A High Wind In Jamaica, A
Paperback
Description
Set in the last century against a tropical landscape and the ever-present sea, A High Wind in Jamaica tells the story of a family of English children who, on being sent by their parents back to England from Jamaica, fall into the hands of pirates.
As this voyage of innocence continues, the events which unfold begin to take on a savagely detached and haunting quality.
Information
Format: Paperback
Pages: 192 pages
Publisher: Vintage Publishing
Publication Date: 04/07/2002
ISBN: 9780099437437
Free Home Delivery
on all orders
Pick up orders
from local bookshops
Reviews
Showing 1 - 1 of 1 reviews.
Review by TheAmpersand
16/06/2015
Whether or not you think that Richard Hughes' "A High Wind in Jamaica" works as a wholel, you've got to give him this: like Bill Watterson and Roald Dahl, he recognized that children occupy an entirely different psychological space than their elders. Of course, occasionally a judgement from the world of adults does make it through to this novel's youthful protagonists, but it usually bears little resemblance to the lesson that the adults intended to teach, and the adults themselves never seem to realize this disconnect. As others have mentioned, the novel's most interested in the moral dimensions of childhood: does the children's lack of knowledge about the world around them contribute to a naturally occurring amorality? I'll leave that for other readers to figure out, though, because "A High Wind in Jamaica" could also be read as a case study in the uncanny resilience of children. The Bas-Thorton and Fernandez children adapt without hesitation to just about any situation they're thrown into, and Hughes seems intrigued by the existence of a stage of human development where our preconceptions are almost infinitely malleable. Emily, for example, reacts to a minor earthquake, a pirate kidnapping, and a pet alligator with varying levels of interest, boredom, and quiet delight – someone who lacks experience, as she does, can't be expected to tell the difference between the extraordinary and the merely ordinary, or the difference between right and wrong, for that matter. Still, I was also charmed by the way that the boys started planning their own careers in piracy almost from the moment that they were kidnapped. Hughes seems to realize that for imaginative children, life holds an almost unlimited number of possibilities: why should a lifetime spent on the high seas be considered any more remarkable than a quiet life lived in England? Hughes, unlike, say, Harper Lee or Roald Dahl, who wrote their child characters using a friendly, accessible indirect third person, draws a careful distinction between his own authorial voice and the lives of his young protagonists. Instead of using the children as narrators, he describes childhood in the same way that an anthropologist might describe a foreign culture: he makes incisive descriptions, draws comparisons, and makes inferences about their self-made social and moral structures, but he relates their story in a style that is complex, eloquent, and undeniably adult. In fact, there are places where I'm not sure that Hughes wasn't satirizing, or perhaps criticizing, the Victorian age's own well-formed ideas about a "separate space" for childhood and their concerns. With its seafaring narrative and "A High Wind in Jamaica" and its wild scenes of play and children's games, this might be the first novel influenced in equal measure by "Peter Pan" and "Heart of Darkness." Some readers, will, I think, find these extreme tendencies hard to accept; this is a novel that makes it difficult to believe in childhood innocence at all. Still, I came away from it think that it's pity that Hughes wrote only four novels, and only two aimed at adults; I suspect that he would have written superbly on any subject he chose.