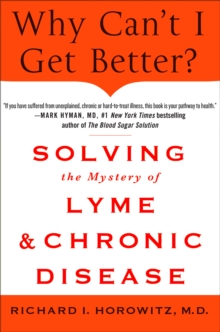 Why Can't I Get Better? : Solving the Mystery of Lyme and Chronic Disease
Hardback
Description
When Dr. Richard Horowitz moved to the Hudson Valley over a decade ago to start his own medical practice, he didn't know that he would be jumping into the centre of one of the fiercest, most heated medical disputes being waged today.
The ongoing debate over Lyme disease as a chronic illness has made it difficult for sufferers to find care, as doctors are in many cases unable or unwilling to diagnose it.
This is how once-treatable infections can become chronic, causing disabling conditions that may never be cured.
In a field where the number of cases is growing each year and answers remain elusive, Horowitz has made extraordinary progress.
His plan represents a paradigm shift, without which, he argues, the suffering will continue.
In this book, Horowitz breaks new ground with a 16 Point Differential Diagnostic Map, the basis for his Lyme treatment plan, and an overarching approach to treating all chronic illness.
He introduces MSIDS, or Multi-Systemic Infectious Disease Syndrome, a new lens on chronic illness that may prove to be an important missing link. And he covers in detail Lyme's leading symptoms and co-infections, including immune dysfunction, sleep disorders, chronic pain and neurodegenerative disorders.
This book is an all-in-one source for patients of Lyme and other chronic illnesses to identify their own symptoms and work with their doctors for the best possible treatment outcome.
Information
Format: Hardback
Pages: 384 pages, includes 5 black & white photographs
Publisher: St Martin's Press
Publication Date: 12/11/2013
Category: Infectious & contagious diseases
ISBN: 9781250019400
Free Home Delivery
on all orders
Pick up orders
from local bookshops
Reviews
Showing 1 - 1 of 1 reviews.
Review by Darcia
16/06/2015
First, I want to emphasize that this is not easy reading material. While, Dr. Horowitz does his best to break the information down into easy to understand chunks, the content is comprehensive and highly scientific. For the average person, this is the type of book requiring time and concentration. For those in the medical profession, this is an absolute must read.I've had a lifetime of health problems and have a list of diagnoses containing words like 'chronic' and 'idiopathic'. Finally, five years ago, I was diagnosed with chronic, late-stage Lyme disease. Even with that knowledge, my doctors have been at a loss as to how to help me. Various treatments have buried me financially while doing very little (if anything) to improve my health. This book explains everything I've gone through, connecting all the seemingly random symptoms and complications I've experienced throughout the years. Unfortunately, traveling to see Dr. Horowitz for treatment isn't an option for me at this time. Also, the average person simply cannot afford all the recommended supplements and medications. Many of us who have faced years of chronic health problems will not be able to afford his recommended protocol, particularly since insurance companies are given so much power in deciding what we do and do not need for treatment. I am lucky to have a doctor who is totally open to alternative treatments, and I plan to bring her this book. With luck, we'll happen about the right combination of treatment and affordability. Dr. Horowitz offers tremendous insight into many chronic health problems, from Lyme disease to fibromyalgia, chronic fatigue syndrome, MS, and much more. He has risked his career and reputation in order to help those of us the medical system has failed so miserably. For that alone, he has my eternal gratitude.