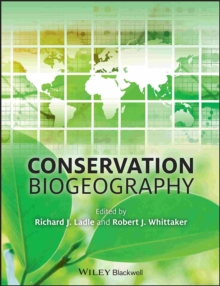 Conservation Biogeography
Paperback / softback
Description
The Earth's ecosystems are in the midst of an unprecedented period of change as a result of human action.
Many habitats have been completely destroyed or divided into tiny fragments, others have been transformed through the introduction of new species, or the extinction of native plants and animals, while anthropogenic climate change now threatens to completely redraw the geographic map of life on this planet.
The urgent need to understand and prescribe solutions to this complicated and interlinked set of pressing conservation issues has lead to the transformation of the venerable academic discipline of biogeography - the study of the geographic distribution of animals and plants.
The newly emerged sub-discipline of conservation biogeography uses the conceptual tools and methods of biogeography to address real world conservation problems and to provide predictions about the fate of key species and ecosystems over the next century.
This book provides the first comprehensive review of the field in a series of closely interlinked chapters addressing the central issues within this exciting and important subject.
View www.wiley.com/go/ladle/biogeography yo access the figures from the book.
Information
Format: Paperback / softback
Pages: 320 pages
Publisher: John Wiley and Sons Ltd
Publication Date: 18/02/2011
Category: Ecological science, the Biosphere
ISBN: 9781444335040