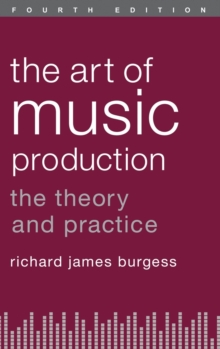 The Art of Music Production : The Theory and Practice
Hardback
Description
Now in its fourth edition, The Art of Music Production has established itself as the definitive guide to the art and business of music production and a primary teaching tool for college programs.
It is the first book to comprehensively analyze and describe the non-technical role of the music producer.
Author Richard James Burgess lays out the complex field of music production by defining the several distinct roles that fall under the rubric of music producer.
In this completely updated and revised fourth edition of a book already lauded as "the most comprehensive guide to record production ever published," Burgess has expanded and refined the types of producers, bringing them fully up to date.
The first part of the book outlines the underlying theory of the art of music production.
Thesecond part focuses on the practical aspects of the job including training, getting into the business, day-to-day responsibilities, potential earnings, managers, lawyers, and - most importantly - the musical, financial, and interpersonal relationships producers have with artists and their labels.
The bookis packed with insights from the most successful music producers ranging from today's chart-toppers to the beginnings of recorded sound, including mainstream and many niche genres.
The book also features many revealing anecdotes about the business, including the stars and the challenges (from daily to career-related) a producer faces.
Burgess addresses the changes in the nature of music production that have been brought about by technology and, in particular, the paradigmatic millennial shiftthat has occurred with digital recording and distribution.
Burgess's lifelong experience in the recording industry as a studio musician, artist, producer, manager, and marketer combined with his extensive academic research in the field brings a unique breadth and depth of understanding to thetopic.