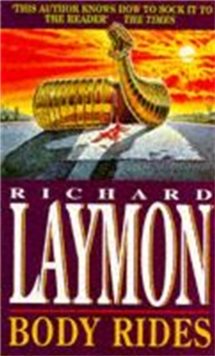 Body Rides : A gripping horror novel of the supernatural and macabre
Paperback
Description
'If you've missed Laymon, you've missed a treat' Stephen King.When Neal shoots a man assaulting a woman, as a reward the woman gives him a magic bracelet that enables him to see through other people's eyes and experience their feelings; to take 'body rides'. But the man he shot is not dead - he's alive and breathing vengeance.
Neal's only chance of survival is to use the bracelet and go inside his would-be-killer's skull...
Information
Format: Paperback
Pages: 512 pages
Publisher: Headline Publishing Group
Publication Date: 15/08/1996
Category: Horror & ghost stories
ISBN: 9780747251002
Free Home Delivery
on all orders
Pick up orders
from local bookshops
Reviews
Showing 1 - 3 of 3 reviews.
Review by tanthonyam
16/06/2015
What would you do with the ability to read minds?---------------- That's Neal's question. After all, when he saved a woman from a sadistic killer (in the process, shooting the man four times) his reward was a bracelet that allows him to transport part of himself into another person......"body ride". But that's not all Neal has to worry about. Because, you see, that sadist killer is really hard to kill. After taking four bullets, he's still bloodthirsty.First, he finishes off the woman.Then, he goes after Neal, and everyone Neal loves.A gripping suspense thriller in Laymon's usual sadisticly-edged style, "Body Rides" will keep you turning pages. Aside from the unnecessary plot-twist near the end, this book is one of Laymon's best--and that's saying a lot.
Review by spidermonkey79
16/06/2015
Body Rides is another must read for any fan of Laymon. Laymon once again succeeds in creating a story that twists the reader into a knot and then proceeds to slowly untie them. The characters are surprisingly easygoing considering there may be someone trying to kill them but the story pushes on with the twisted inner dialog and "roll with the punches" morals typical of Laymons stories. If your a fan of Laymon this is definitely a book to add to your collection. If your not than still give it a try, its guaranteed to leave you thinking what you would do.
Review by Bridgey
16/06/2015
Body Rides - Richard Laymon ****Imagine being given a ring that will allow to to enter someone elses body, feel what they feel, experience their thoughts and see the most hidden of secrets. Now imagine this ring in the hands of a randy lad just out of his teens..... Anyone who is familiar with Laymons work will know what to expect, with lots of references to sex, boobs and girls undressing....Neil rescues a woman being raped at the roadside and seemingly leaves her killer for dead. As a reward she gives him her most treasured item, a ring that will allow to go for 'body rides'. However the killer isn't dead and now wants to exact revenge on Neil for spoiling his fun. Can he use to ring to his advantage whilst having a little fun on the way?A wonderful book that at times was gruesome, at times laugh aloud. I love Richard Laymon but can see why he may not be everyones cup of tea. Not a bad place to be introduced to his work.