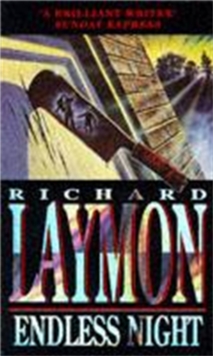 Endless Night : A terrifying novel of murder and desire
Paperback
Description
Jody Fargo is sweet sixteen, but tougher than she looks - she has to be.
She's sleeping over at her friend's when the killers break in.
They slaughter the family but Jody escapes with twelve-year-old Andy... Simon Quirt doesn't seem like a crazed killer. But that's just what he and his friends are. Now Simon must dispose of the only eyewitnesses to the massacre and he can't wait to get his hands on Jody...
Information
Format: Paperback
Pages: 480 pages
Publisher: Headline Publishing Group
Publication Date: 23/06/1994
Category: Horror & ghost stories
ISBN: 9780747243670
Free Home Delivery
on all orders
Pick up orders
from local bookshops
Reviews
Showing 1 - 4 of 4 reviews.
Review by tanthonyam
16/06/2015
Jody is sleeping over at her friend's house. It's all well...until she shes her friend impaled on a spear. And then all hell breaks loose. Jody and her friend's little brother Andy manage to escape...but that's just the beginning. First, there's the pursuit. And there's the waiting. Becuase the killers will catch up...and they'll want to have some fun...Then there's Simon. He's the guy who's been assigned to find Jody. Which is perfectly alright with Simon, because he has an agenda of his own, which he relates to the readers as he narrates his sections of the book. You see, Simon just may be sicker and crazier than his colleagues...and he'll stop at nothing to capture Jody.There is one thing going for this novel that most other horror novels lack: suspense. Richard Laymon wove suspense into everything he wrote. Few can match him when it comes to edge-of-your-seat storytelling. If for that reason alone, you should buy this book."Endless Night" is a bit gruesome, I'll admit. It had my stomach churning in a couple of spots. But it is a good, fast read. A bit darker than Laymon's last published novels have been (although, as any fan can tell you, he can get pretty sadistic at times), and a bit more haphazzard, but "Endless Night" is still a novel for horror fans, or Laymon's new legions of fans (of which I am one). It's a thrilling, gory ride...one that will have you at the edge of your seat the entire time.
Review by Paul_Salter
16/06/2015
read this a number of years ago in paperback, decided to read again now as an ebook, thoroughly enjoyed it
Review by Marlene-NL
16/06/2015
This book made my heart go faster from the start. The day i started to read I was told to take a few days of bed rest and try to relax so I do not think this book was the right choice. So scary. I was glad when the narrator went to Simon.<br/>Finished it last night. I had to read it in parts, sometimes had to have a break of the suspense. :)<br/>
Review by Bridgey
16/06/2015
Endless Night - Richard Laymon ***Jody Fargo is staying at a friend's house overnight when she is woken up. She walks out on the landing and peeks into her friend's parent's bedroom. She witnesses not just a murder but a 'slaughter party'. A number of men are doing all sorts of things with the dead bodies. She escapes along with her friend's younger brother but is seen and pursued.The book is told in almost alternating chapters from both Jody and her main pursuer, Simon Quirt. As Simon tracks her down he leaves behind a trail of bodies and we are allowed to share his twisted views. The ending provided a nice twist, one of those books that doesn't finish when you think it will.As is typical of Laymon expect lots of sexual moments with a very sick slant. I enjoyed the book but having read a number of his books I am finding them a little too formulaic and I am fast coming to the conclusion of 'Read one, read them all'. I think that if this had been the first book I had read by the author then I would have given it five stars.