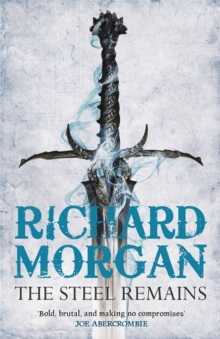 The Steel Remains
Paperback
Description
Ringil, the hero of the bloody slaughter at Gallows Gap is a legend to all who don't know him and a twisted degenerate to those that do.
A veteran of the wars against the lizards he makes a living from telling credulous travellers of his exploits.
Until one day he is pulled away from his life and into the depths of the Empire's slave trade.
Where he will discover a secret infinitely more frightening than the trade in lives.Archeth - pragmatist, cynic and engineer, the last of her race - is called from her work at the whim of the most powerful man in the Empire and sent to its farthest reaches to investigate a demonic incursion against the Empire's borders.Egar Dragonbane, steppe-nomad, one-time fighter for the Empire finds himself entangled in a small-town battle between common sense and religious fervour.
But out in the wider world there is something on the move far more alien than any of his tribe's petty gods.
Anti-social, anti-heroic, and decidedly irritated, all three of them are about to be sent unwillingly forth into a vicious, vigorous and thoroughly unsuspecting fantasy world.
Called upon by an Empire that owes them everything and gave them nothing.Richard Morgan brings his trademark visceral writing style, turbo-driven plotting and thought provoking characterisation to the fantasy genre and produces a landmark work with his first foray.
Information
Format: Paperback
Pages: 400 pages
Publisher: Orion Publishing Co
Publication Date: 01/07/2009
Category: Fantasy
ISBN: 9780575084810
Free Home Delivery
on all orders
Pick up orders
from local bookshops
Reviews
Showing 1 - 5 of 8 reviews.
Previous | Next
Review by FicusFan
16/06/2015
I have read and loved Morgan's <b>Takeshi Kovacs </b> SF series, so I was very excited to read his first fantasy book. It was very good. In style and scope it reminded me of R.Scott Baker's <b> Prince of Nothing </b> series with the inclusion of politics, religion, culture and war. It was much better written than <b>The Darkness that Comes Before </b> though. The writing is crisp and smooth. The characters are interesting, and developed, though they develop more over the course of the book. The settings are pretty good, though some places are hard to visualize. The 'enemy' is a bit nebulous for a good part of the book, because Morgan is trying to keep the mystery going. The book ends up being a dark fantasy with SF (aliens from other dimensions) and horror (zombies and ghouls) trappings.It is very violent, and there is a lot of cussing. There is cynicism and black humor.There is sex, some forced, some straight, some gay, and the intimation of bestiality and necrophilia. Very gritty, Dark Fantasy. Think of a gay Kovacs in a low tech setting with a sword :)The book has 3 threads and follows 3 characters, who were all in the last big war together. They are having a difficult time with the peace. They were used and discarded, and the evils they fought and won against have been adopted by their own side. They have gone their separate ways to try to make lives for themselves. The story in the book is of events that bring them back together.The main POV is Ringil, who is a war hero who has not only been discarded by his country, but who would be executed if he weren't part of a powerful, noble family. Ringil is gay and the religion and state are one, and they consider homosexuality an abomination and kill any they find or even suspect. The next POV character is Archeth, a black, lesbian, alien woman. She is the last of the magical Kiriath. They left the planet but did not take her because she is also half-human. She is an advisor to the Emperor of Yhelteth, trying to stay alive in his court with the factions and his mercurial moods. They too have religion that has political power and is against Arceth because she is not human, a lesbian, and a drug user.The last POV character is Egar. He is a steppe nomad, a horse riding barbarian and he has returned to the Steppes and his people, but he is no longer a simple nomad. He brings strange ideas and odd behavior to the closed society. He heads his family, but they do not respect him.Ringil is a big fish in a small pond, in a tiny town in the wilderness, living off his war stories. His mother finds him and recruits him to come home to look for a cousin who has fallen on hard times. He husband has lost all their money, taken out loans he can't pay, and then killed himself. The cousin, his widow has been sold into slavery to repay the debt. Gil's mother wants her back and wants him to find and free her. He has to go home to his old home town to do it. He has issues with his father and the power in the town, though he has contacts with those in the underbelly.Archeth is being sent with a force of troops to a coastal town that has been ravaged by a mysterious force. Someone or something came ashore, past the magical metal Kiriath defenses and melted and burned almost all the people and the buildings. The Emperor wants to know what happened and who is behind it.Egar is not traditional enough for the old timers, and too tame for the young who have no experience of war, only legends to excite them. He is more interested in whoring with young teen girls than settling and having a family. He also runs afoul of the local Shaman when his experience of the world makes him ignore the Shaman and his warnings. The Shaman incites his brothers to kill him.Eventually they all come together to track the beings who came ashore.I like all the characters, but I thought that Egar seemed the weakest in terms of the a reason and place in the story. This is the first book of the <b> Land Fit for Heroes </b> series, so perhaps he has a bigger role in the other books.I enjoyed it but will say its not for those who are easily offended or are uncomfortable with gay characters.I can't wait for the next book.
Review by lewispike
16/06/2015
The reviews printed on the back and inside this book suggest this is a ground-breaking, almost revolutionary concept. I have to say that this is misleading.What you do have, however, is a good, solid piece of fantasy writing with interesting races and cultures, interesting characters and an interesting plot.It follows a group of former heroes, from a war a decade or so ago. One is the emperor's advisor, one a drunk living in the edge of the empire and one a clan-master of his barbarian clan who is in political trouble with the clan's shaman. Their stories duck and weave and eventually come to a rather satisfying conclusion.If you're a homophobe you probably want to avoid this book - the character we follow most often is gay, flouting the religious law of his country, and whilst it's far from explicit, there's quite a bit of gay sex in here. Perhaps that's what's meant to be revolutionary?
Review by ben_h
16/06/2015
A couple of Morgan's other books have already been optioned by Hollywood, which is maybe why this one read like it was designed to be an action movie. Not that it wasn't fun, mind you--all spilling guts and spurting cocks, tits and motherfuckers. Recommended for fans of both Conan the Barbarian and Irvine Welsh.
Review by JR.Raluces
16/06/2015
This is the first Richard Morgan book I have read after being advised to give it a go. It had been highly recommended to me, building my expectations, and I was really looking forward to reading it, however, ended up having mixed feelings if I'm being honest. I loved the structure, the style of writing and the language used, however, I felt the tempo needed increasing as I found parts a bit slow. The story itself I also found quite limited, finding often my favourite parts were the back story and the history behind each character and the world he had created rather than the ongoing one that formed the crux of the book. I recognise that it is the first in a trilogy, and the story will (hopefully) develop at a faster pace and I did really enjoy the part of the prophecy about a dark lord rising, which had definitely hooked me into going on to the read the second one in the trilogy soon.I loved the breaking of conventions, making the lead character a bad-ass brutal sword slinging gay guy that likes to play by his own rules. The fact that this "hero" is then derided by the people and the world he helped save instead of being revered by all. Often just simply labelled as a "faggot" and people forgetting the skill, strength and danger he truly represents. I loved the gritty, raw and edgy style that was delivered, with the graphic scenes adding to the story which seems to becoming more common in the fantasy genre recently, however, not it is not quite on the same level as the Blade Itself and the series by Joe Abercrombie which stands out in these terms for me. Overall, I enjoyed the book, and would recommend the read. For a debut novel in the fanatasy genre it was a solid effort, but I am hoping the second in the trilogy will be an improvement. The foundation has been laid, and I'm hoping the story pushes on, picks up the tempo, and leads to an exciting climax that will want to make me go straight onto the final book in the trilogy !We shall see if it does or not...........
Review by nmele
16/06/2015
I don't read much fantasy, science fiction or mysteries are more my style of light reading, but Richard K. Morgan's novels have all impressed me. His first fantasy novel is a noir take on a standard fantasy plot, with some interesting additions, like a gay protagonist, a lesbian protagonist and some doubt about whether magic is simply technology so advanced that it might as well be magic. I'm looking forward to the next book in the projected trilogy.