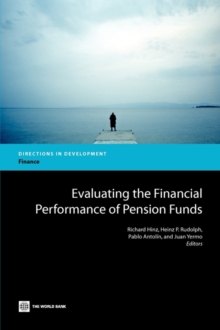 Evaluating the Financial Performance of Pension Funds
Paperback / softback
Description
Countries throughout the world are increasingly relying on individual pension savings accounts to provide income replacement in old age for their citizens.
Although these have now been in place for several decades, the metrics for the measurement of their performance has not always meaningful from the perspective the long term objectives of pension funds.
The recent financial crisis has highlighted the need to establish meaningful performance measures that consider pension funds in relation to the ability to effectively provide income replacement at retirement age.
The book discusses the theoretical basis and a number of implementation issues related to the emerging view that at meaningful evaluation of the investment performance of pension funds requires the design of life-cycle benchmarks against which performance can be evaluated. The composition of these benchmarks would depend on a number of factors, including the presence of other sources of retirement income; the age of individuals; the rate of contributions; the target replacement rate; the expected density of contributions; the type of retirement income in the payout phase, and the risk aversion of policymakers and individuals.
This book provides an evaluation of the financial performance of funded pension systems within the standard mean variance framework.
It then provides a discussion of the limitations inherent to applying these methods to pension funds and proceeds to review the many other issues that should be addressed in developing more useful and meaningful performance measures through the formulation of pension specific benchmark portfolios.
Evaluating the Financial Performance of Pension Funds concludes with commentary and observations about the need for and application of this new approach to performance measurement and the impact of the recent global financial crisis on the pension funds.
Information
Format: Paperback / softback
Pages: 296 pages
Publisher: World Bank Publications
Publication Date: 15/01/2010
Category: Pensions
ISBN: 9780821381595
Free Home Delivery
on all orders
Pick up orders
from local bookshops