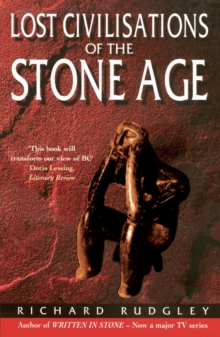 Lost Civilisations of the Stone Age
Paperback
Description
Bringing together for the first time disparate evidence from the fields of archaeology, ancient history and anthropology, Richard Rudgley shows the achievements, inventions and discoveries of prehistoric times have all but been edited out of popular accounts of the human story.
The rise of civilisation 5, 000 years ago has often been portrayed as if it were somehow created out of nothing but the author describes how the explorers of the stone age discovered all the world's major land masses; how writing can be traced back via Neolithic systems of accounting to its Palaeolithic origins, and how mathematical and astronomical science and technological and industrial activities such as tool-making and pyrotechnics all date back to the stone age, as do many significant medical practices including cranial surgery.
Lost Civilisations of the Stone Age brings into question many assumptions about our own cultural superiority, and argues that prehistoric life was in many ways more advanced than our own.
Information
Format: Paperback
Pages: 320 pages
Publisher: Cornerstone
Publication Date: 02/09/1999
Category: General & world history
ISBN: 9780099223726
Free Home Delivery
on all orders
Pick up orders
from local bookshops
Reviews
Showing 1 - 1 of 1 reviews.
Review by john257hopper
16/06/2015
The author mostly succeeds in establishing that the roots of human achievement in many cases go back much further than is often assumed into what is generally known as prehistory. However, he often oversimplifies the arguments made by other archaeologists and portrays them as having an utterly rigid conception of a 40000BP threshold for the formation of modern human consciousness, thereby setting up a crude dichotomy between two schools of thought. The tone is set by his introduction where he cites examples of appalling insensitivity by 19th century archaeologists in grave robbing (e.g. of Tasmanian aborigines) and seems to imply that many modern archaeologists are also like that. So, overall, a fascinating look at many prehistoric attainments, but should be read alongside other views, especially as relating to controversial areas such as early art objects or evidence of human occupation in the Americas or Australia.
Also by Richard Rudgley