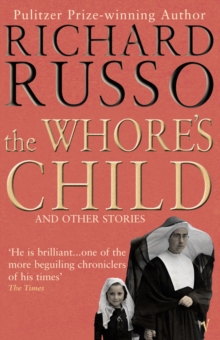 The Whore's Child
Paperback
Description
In this entrancing first collection of stories, a master storyteller focuses on a fresh and fascinating range of human behaviour, revealing himself as an even more versatile and accomplished writer than his acclaimed novels have shown.
As with all Russo's characters, we warm to these newcomers almost in spite of themselves.
In the title story, a septuagenarian nun resolutely invades the narrator's college writing workshop with an incredible saga; a seasoned Hollywood moviemaker uncovers a 25-year-old flame he never knew he'd harboured; a precious fifth-grader puzzles over life, love and baseball as he watches his parents' marriage dissolve; another child is forced into a harrowing cross-country escape; and an elderly couple rediscover the power - and misery - of their relationship during a long-awaited retreat to a hurricane-swept resort island.
Information
Format: Paperback
Pages: 240 pages
Publisher: Vintage Publishing
Publication Date: 01/11/2003
Category: Anthologies (non-poetry)
ISBN: 9780099437529
Free Home Delivery
on all orders
Pick up orders
from local bookshops
Reviews
Showing 1 - 2 of 2 reviews.
Review by mojacobs
16/06/2015
7 short stories in Russo's well-known voice. Enjoyable, but I prefer his novels. His characters become so real, you want to know more about them, spend more time with them than a short story allows - every one of the stories could be the first chapter of a novel I'd gladly read. The short stories are just too ... short.
Review by engpunk77
27/08/2015
4.5 These short stories will stand out in my experiences equally and caused me to contemplate the complex motivations, reactions, consequences, and feelings behind and within the simplest of human experiences. <br/><br/>Russo excels at creating characters who are so real that later you find yourself saying, "I know this guy once who....." and you realize, "No I didn't--that was a character in a book!" <br/><br/>This reading experience even had a perfect ending. I intended to finish it on the airplane so that I could leave it in the seat-back pocket for another traveler's serendipitous find. Better yet, a passenger next to me peeked at the cover of my engaging read and said, "Russo? Is this a new one? I've read everything he's written and I've never even heard of this one. I love Russo.... I saw him speak in Syracuse...." I finished this collection within 4 minutes of landing and handed it to her. So satisfying.