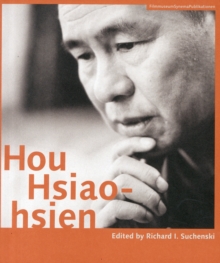 Hou Hsiao-hsien
Paperback
Description
For younger critics and audiences, Taiwanese cinema enjoys a special status, comparable with that of Italian Neorealism and the French New Wave for earlier generations, a cinema that was and is in the midst of introducing an innovative sensibility and a fresh perspective.
Hou Hsiao-hsien is the most important Taiwanese filmmaker working today, and his sensuous, richly nuanced films reflect everything that is vigorous and genuine in contemporary film culture.
By combining multiple forms of tradition with a uniquely cinematic approach to space and time, Hou has created a body of work that, through its stylistic originality and historical gravity, opens up new possibilities for the medium.
This new volume includes contributions by Olivier Assayas, Peggy Chiao, Chung Mong-hong, Jean-Michel Frodon, Hasumi Shigehiko, Ichiyama Shozo, Jia Zhang-ke, Kent Jones, Koreeda Hirokazu, Jean Ma, Ni Zhen, Ab Mark Nornes, James Quandt, Richard I.
Suchenski, James Udden, and Wen Tien-hsiang, as well as conversations with Hou Hsiao-hsien and some of his most important collaborators over the decades.
Free Home Delivery
on all orders
Pick up orders
from local bookshops