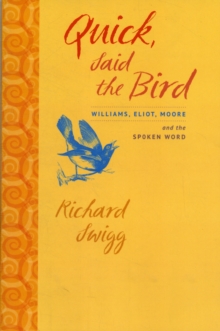 Quick, Said the Bird : Williams, Eliot, Moore, and the Spoken Word
Paperback / softback
Description
When William Carlos Williams said, "It's all in / the sound," when T.
S. Eliot hailed the invigorating force of the "auditory imagination," or when Marianne Moore applauded "the clatter and true sound" of Williams's verse, each poet invoked the dimension that bound them together.
In Quick, Said the Bird, Richard Swigg makes the case for acoustics as the basis of the linkages, kinships, and inter-illuminations of a major twentieth-century literary relationship.
Outsiders in their home terrain who nevertheless continued to reach back to their own American vocal identities, Williams, Eliot, and Moore embody a unique lineage that can be traced from their first significant works (1909-1918) to the 1960s. In reconstructing the auditory dimension in the work of the three poets, Quick, Said the Bird does not neglect the visual text.
Whether in the form of Moore's quirky patterning's, Eliot's expandable verse-frames, or Williams's springy stanzas, the printed shape on the page is here brought together with the spoken word in vital interplay: the eye-read text cut against by sequential utterance in a restoration of the poetry's full effect.
By seeing and hearing the verse at the same moment-together with reading side-by-side discussions of the quarrels, friendships, mutual borrowings, and shared energies of Williams, Eliot, and Moore-the reader gains a remarkable new understanding of their individual achievements.
By sound and sight, Quick, Said the Bird takes the reader straight into the physical textures of the finest works by three outstanding figures of twentieth-century American poetry.
Information
Format: Paperback / softback
Pages: 184 pages
Publisher: University of Iowa Press
Publication Date: 15/03/2012
Category: Literary studies: poetry & poets
ISBN: 9781609380793
Free Home Delivery
on all orders
Pick up orders
from local bookshops