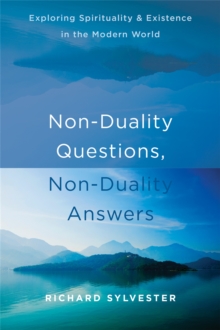 Non-Duality Questions, Non-Duality Answers : Exploring Spirituality and Existence in the Modern World
Paperback / softback
Description
Since time immemorial, key questions about the nature of existence have nagged at our consciousness: What am I?
Why am I here? What is this anyway? And for years, non-duality author, humanistic psychologist, and therapist Richard Sylvester received questions like these, along with deeply personal inquiries on non-duality and intimate spiritual experiences, from people seeking honest answers.
Now those questions and responses are available to you. You may have sought answers to these fundamental inquiries in religion, solitude, the company of family and friends, or conversations with gurus, priests, and philosophers.
Even so, you may be living with lingering doubts about what you've been conditioned to believe, feeling "lost on the path" or otherwise frustrated with organized religion or the indirectness and prescriptiveness of spiritual teachings.
With Non-Duality Questions, Non-Duality Answers, you'll find that self-inquiry can help you end the cycle of inadequacy and searching-that liberation through non-dual awareness is possible-and that no query is too ridiculous or big for the discussion at hand. Designed to answer questions as they arise, this book sheds spirituality and non-duality of its vague and amorphous prescriptions.
With a unique blend of patience, compassion, respect, provocation, and humor, Sylvester shows that we are all united in our worrying and striving, and gives you a glimpse of the Oneness that is so hard to describe but is so easily felt.
Information
Format: Paperback / softback
Pages: 400 pages
Publisher: New Harbinger Publications
Publication Date: 24/11/2016
Category: Thought & practice
ISBN: 9781626258181
Free Home Delivery
on all orders
Pick up orders
from local bookshops