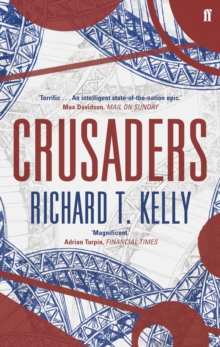 Description
In 1996, just before the rise of New Labour, Reverend Gore returns to his native Newcastle charged with planting a new church in one of the city's rougher estates.
As he settles into the local community, he becomes involved with Stevie, a local 'security consultant', Lindy, a street-wise single mother, and Martin, an ambitious local Labour MP.
But these relationships draw Gore into a moral crisis in this extraordinary debut novel, driven by sharp social observation, darkly desperate humour and an undercurrent of impending violence.
Information
Format: Paperback
Pages: 550 pages
Publisher: Faber & Faber
Publication Date: 31/07/2008
ISBN: 9780571228058
Other Formats
Paperback from £11.35
EPUB from £6.39
Free Home Delivery
on all orders
Pick up orders
from local bookshops
Reviews
Showing 1 - 1 of 1 reviews.
Review by presto
16/06/2015
Set in 1996 our three main characters are: John Gore, thirties, who is embarking on his first major assignment as C of E minister planting a new church in a disadvantaged district of Newcastle; Martin Pallister, early forties, the up and coming Labour candidate; each man an active labour supporter from his youth. The third man is Stevie Coulson, a once slight lad from a broken family, now a heavy weight in more sense than one, a local thug with his own entourage of similarly muscle bound followers.The three men come together as Coulson and Pallister individually lend their support to Gore's new venture. The story revolves as much around Gore's new church as Pallister's political activities and Coulson's underworld dealings; and inevitably involves their respective private lives. This is a vast story, and told as much in flash back as in the present and perhaps this is where this mammoth undertaking begins to become unwieldy. With three men to follow, the flash backs are all over the place, from the very recent past to the distant past, in no particular order.I found the characters, while interesting and very well developed, difficult to respect. They may be determined in their ideals, but does the end justify the means? Gore especially is problematic here, and his unlikely alliances raise far reaching questions. So does his behaviour with Lindy, the tarty, and surely inappropriate woman for a minister, he takes up with and jumps into bed with at the first opportunity; can one have respect for a man who supposedly upholds the morals of the church yet readily disregards them in his private life? What it comes down to is that I want truly to like at least one of the protagonists in the story; I don't demand perfection in him, but at least integrity.Its claim to being "The Great British Novel of This Decade" is another matter. I often found myself struggling with it, struggling to maintain interest. Far too much detail laboriously presented at times, inevitably it holds up the narrative. I also had problems with the standard of writing; does neither Mr Kelly nor his editors know how to use pronouns? Errors such as this cropped up time and again: "it was books, of all things, that helped he and Martin stay pals", such prissy misuse of the pronoun jars to say the least, and ruins any involvement with the narrative.This is a brave attempt, but if my interest is to be maintained throughout such a momentous journey I need something more to grasp, a better reason than merely to find out what ultimately transpires, I want to empathise with the characters; I could not do so here.