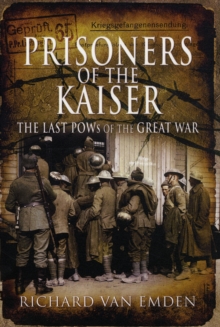 Prisoners of the Kaiser
Paperback
Description
Drawing on the memories of the last surviving prisoners of the 1914-1918 war, this book tells the dramatic story of life as a POW in Germany. Stories include the shock of capture on the Western Front, to the grind of daily life in imprisonment in Germany. Veterans recall work in salt mines, punishments, and escape attempts, as well as the torture of starvation and the relief at their eventual release. Vivid stories are told using over 200 photographs and illustrations, almost all never published before.
Information
Format: Paperback
Pages: 224 pages, text and plates
Publisher: Pen & Sword Books Ltd
Publication Date: 21/05/2009
Category: European history
ISBN: 9781848840782
Free Home Delivery
on all orders
Pick up orders
from local bookshops
Reviews
Showing 1 - 1 of 1 reviews.
Review by douboy50
16/06/2015
This book is based on a documentary of the same name. The author launched a project in 1999 whereby he sought out the remaining British survivors of WWI German POW camps. These ex-POWs were enlisted men, not officers. Richard Van Emden covers their experiences from the point of capture through their release and repatriation after the war. There are numerous photos and copies of documents in the book; there are even clips from camp newspapers. Since the photos came from private sources, this is the first time they have been published.The differences in the treatment received among the various ex-POWs was amazing. Some had a relatively easy time, while others were treated poorly. It all depended on the Camp Commandant and what he allowed to happen. One complaint was universal among the survivors: the lack of food. During the First World War, Germany was under blockade by the Royal Navy. Consequently, as the war went on there was a serious lack of food in Germany. So there was little food to spare for prisoners. Parcels from the Red Cross and other organizations became a significant source of food for the prisoners. It was surprising how well the parcel systerm worked. Most of the parcels mailed reached the serviceman to whom it was addrressed. Of course there was some theft, but overall the system worked. Very interesting book. The first I have read on the subject of POWs. I recommend it.