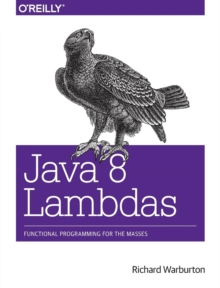 Java 8 Lambdas : Pragmatic Functional Programming
Paperback
Description
If you're a developer with core Java SE skills, this hands-on book takes you through the language changes in Java 8 triggered by the addition of lambda expressions.
You'll learn through code examples, exercises, and fluid explanations how these anonymous functions will help you write simple, clean, library-level code that solves business problems.
Lambda expressions are a fairly simple change to Java, and the first part of the book shows you how to use them properly.
Later chapters show you how lambda functions help you improve performance with parallelism, write simpler concurrent code, and model your domain more accurately, including building better DSLs. Use exercises in each chapter to help you master lambda expressions in Java 8 quickly Explore streams, advanced collections, and other Java 8 library improvements Leverage multicore CPUs and improve performance with data parallelism Use techniques to "lambdify" your existing codebase or library code Learn practical solutions for lambda expression unit testing and debugging Implement SOLID principles of object-oriented programming with lambdas Write concurrent applications that efficiently perform message passing and non-blocking I/O
Other Formats
PDF from £23.52
EPUB from £23.52
Free Home Delivery
on all orders
Pick up orders
from local bookshops
Reviews
Showing 1 - 1 of 1 reviews.
Review by tlockney
16/06/2015
This book would have gotten 4 stars, but I think there are a few places where it's just plain misleading. In particular, the details about parallel and performance could lead to assumptions about easy payoffs from simply making stream operations parallel. Warburton does acknowledge the safety needs here (i.e., making your data immutable and such) but he doesn't really address the fact that the simple parallelism offered here can quickly lead to decreases in performance and unpredictable behavior. This is a serious enough concern that I thought it worth knocking a star off my rating. That said, if you want to quickly get up to speed on the new Java 8 functionality, this is a solid resource for doing so.
Also by Richard Warburton