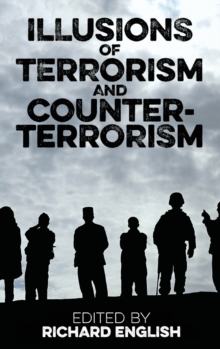 Illusions of Terrorism and Counter-Terrorism
Hardback
Description
Terrorism and counter-terrorism represent enduringly and globally important phenomena, and the mutually shaping relationship between non-state terrorism and state counter-terrorism continues to influence world politics.
Illusions of Terrorism and Counter-Terrorism brings together leading scholars in the field to analyse this relationship, and to do so in distinctive manner.
The book sustainedly assesses the interaction of terrorism and counter-terrorismthrough drawing on a range of academic disciplines in dialogue with one another.
It addresses the dynamics of counter-terrorism more interrogatively and concentratedly than is common in much of the scholarly literature, and it highlights a theme that is all too rarely considered in the field: namely, the sharedand mutually-echoing failings and illusions involved in the politics of terrorism and counter-terrorism alike. Chapters analyse post-9/11 counter-terrorism, the ongoing evolution of al-Qaida, the imperatives and challenges and global context of western counter-terrorist efforts, and the reasons why terrorist campaigns sometimes endure and sometimes come to an end.
Candid and wide-ranging, Illusions of Terrorism and Counter-Terrorism offers rigorous and original argument on a subject of the highest significance.
Information
Format: Hardback
Pages: 186 pages
Publisher: Oxford University Press
Publication Date: 10/12/2015
Category: International relations
ISBN: 9780197265901
Also in the Proceedings of the British Academy series | View all