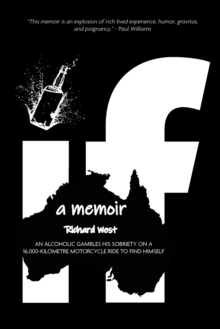 If : a Memoir - An alcoholic gambles his sobriety on a 16,000-kilometre motorcycle ride to find himself.
Paperback / softback
Description
Recovering alcoholic Richard West has never exorcised the ghosts of his worst tragedy. Even thirteen years later, the sixty-two-year-old hasn't gotten over the car crash that took the lives of his son and ex-wife. With guilt eating him alive and a need to put his sobriety to the test, he buys a motorcycle and departs on an impulsive journey into the Australian Outback. Attempting to circumnavigate the continent in just sixty-two days, he sees visions of his dead son everywhere acting as a guiding light. But when he meets and forms a friendship with a woman in a yellow drop-top Bug, she becomes a major threat to staying sober. And with each temptation, the unopened bottle of Johnnie Walker in his saddlebag calls to him louder and louder. Will he drown his sorrow in a familiar failure, or can he emerge from his soul-searching quest the man he aspires to be? If is a moving memoir of an extraordinary ride to redemption. If you like flawed heroes, real-life road novels, and battles overcoming grief, then you'll love Richard West's touching adventure.
Information
Format:Paperback / softback
Pages:298 pages
Publisher:Richard West
Publication Date:10/09/2020
Category:
ISBN:9780646814094