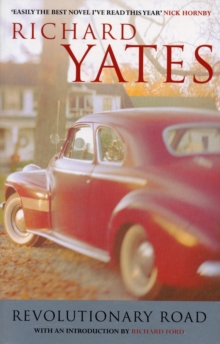 Revolutionary Road
Paperback
Description
The story of Frank and April Wheeler, a bright, beautiful and talented couple who have lived on the assumption that greatness is just around the corner.
With heartbreaking compassion and remorseless clarity, Richard Yates shows how they mortgage their spiritual birthright, betraying themselves and each other.
Information
Format: Paperback
Pages: 346 pages
Publisher: Methuen Publishing Ltd
Publication Date: 01/02/2001
ISBN: 9780413757104
Other Formats
Paperback from £7.79
Hardback from £11.25
EPUB from £4.99
Free Home Delivery
on all orders
Pick up orders
from local bookshops
Reviews
Showing 1 - 5 of 21 reviews.
Previous | Next
Review by LizzySiddal
16/06/2015
I am so pleased to have made the acquaintance of a kindred spirit. For unlike the optimistic of this world among you, I often share the Yatesian depair. You only have to look at the news to realise that there ain't much sapiens in the human species, and there certainly wasn't much savvy in the cast list of this novel.It was truly an absorbing read and the scenes so realistic with warts-and-all honesty that they came off the page. At times, though, it felt unnecessarily sordid. I freely admit I was shocked by the extended debate concerning the survival of the Wheeler child and the grusome details of April's demise.
Review by piefuchs
16/06/2015
A dark story of human nature, aging, and marriage which is worthy of its status as a great novel. While I found the character of April a touch unbelievable and the ending a little too predictable - this was more than compensated for by the inner musings of Frank on life and work. Beautifully written - parts ring painfully true.
Review by mitzlarue
16/06/2015
Interesting read about a couple whose marriage is slowly disintegrating. Captures the feel of the mid 50s and attitudes towards love, marriage, and finding yourself.
Review by pdebolt
16/06/2015
The sadness of this beautifully written book will stay with me for a long time. Frank and April Wheeler live the "American Dream" in a Connecticut suburb in 1955, a period of apparent optimism and striving for upward mobility in the United States. Although part of the community, they continue to denigrate it, seeing themselves as somehow apart from the cliched materialism and posturing of their neighbors. Sadly, their aspirations to set themselves apart are not compatible with their capabilities. Eventually their arguments escalate to an unbearable pitch, and the reader sees them plunge toward an inevitable disaster. I greatly admire Richard Yates' craftsmanship in this absorbing and sobering novel.
Review by AuntJha
16/06/2015
I felt sorry for April and Frank, also disgusted with them. If you want to be unique then be unique. Don't make the same choices everyone else makes and expect that somehow you are going to be different. Within the confines of the 1950s their choices make more sense then they do today, and Mr. Yates is brilliant when describing their inner feelings which would have been revolutionary at the time. I can understand Franks disinterest in his job and his reluctance to approach tasks at work. I found it interesting that April and Frank manage to bring out the best in each other and also the worst, only after April cooks up the scheme to move to Europe is he able to achieve some success at work. Unfortunately for Frank, April is not impressed with moving up the ladder, she wants excitement and passion. This book was a quick, sad read, not at all enjoyable but more educational then an episode of Mad Men.