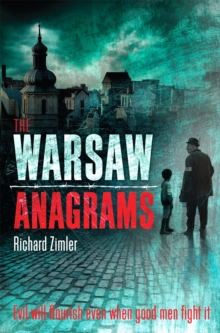 The Warsaw Anagrams
Paperback
Description
Autumn 1940. The Nazis seal 400,000 Jews inside a small area of the Polish capital, creating an urban island cut off from the outside world.
Erik Cohen, an elderly psychiatrist, is forced to move into a tiny apartment with his niece and his beloved nine-year-old nephew, Adam. One bitterly cold winter's day, Adam goes missing. The next morning, his body is discovered in the barbed wire surrounding the ghetto.
The boy's leg has been cut off, and a tiny piece of string has been left in his mouth. Soon, another body turns up - this time a girl's, and one of her hands has been taken.
Evidence begins to point to a Jewish traitor luring children to their death...In this profoundly moving and darkly atmospheric historical thriller, the reader is taken into the most forbidden corners of Nazi-occupied Warsaw - as well as into the most heroic places of the heart. Praise for Richard Zimler: 'A riveting literary murder mystery, [The Last Kabbalist of Lisbon] is also a harrowing picture of the persecution of 16th-century Jews and, in passing, an atmospheric introduction to the hermetic Jewish tradition of the Kabbalah.'Independent on Sunday 'Zimler [is] a present-day scholar and writer of remarkable erudition and compelling imagination, an American Umberto Eco.' Spectator 'Zimler has this spark of genius, which critics can't explain but readers recognise, and which every novelist desires but few achieve.' Independent 'Zimler is an honest, powerful writer.' Guardian
Information
Format: Paperback
Pages: 336 pages
Publisher: Little, Brown Book Group
Publication Date: 20/11/2002
Category: Classic fiction (pre c 1945)
ISBN: 9781849013697
Other Formats
EPUB from £4.99
eAudiobook MP3 from £16.76
Free Home Delivery
on all orders
Pick up orders
from local bookshops
Reviews
Showing 1 - 3 of 3 reviews.
Review by riverwillow
16/06/2015
There are so many novels about the Holocaust, some of them great, <i>Sophie's Choice</i>, others, which shall remain nameless, not so great. Zimler's touched on the events of the Holocaust in some of his other books, most notably in <i>The Seventh Gate</i> which is set in 1930s Berlin, and, of course, most his books are concerned with the persecution of an individual or group because of their differences, but this is his first novel to deal directly with the Holocaust.The novel is set in the Warsaw Ghetto in the early 1940s. When we first meet Erik Cohen he is an "ibbur", a spirit who needs to complete an important task, visiting his old home, where he meets Heniek Corben and, needing to be heard, tells Heniek his story. Erik, an elderly Jewish psychoanalyst, moved from his comfortable flat to live within the Ghetto with his niece Stefa, sharing a bedroom with his nine year old nephew, Adam. When Adam is murdered, possibly by the Nazis, Erik sets out to try and solve the mystery. As he investigates Adam's murder, he discovers that other children have been killed in similar circumstances. Zimler's narrative explores a Ghetto where amongst the starvation, dejection and despair, there is still hope, love and kindness. But the world outside is a terrible place, where a Jew can be picked up by the SS at any time, and anyone suspected of harbouring or helping a Jew can be killed without a thought. Yet it is in this world that Erik finds the terrible and horrifying solution to Adam's murder.Zimler's prose is direct and seemingly simple and it is this directness that is at the heart of his genius – he doesn't shy away from Erik's occasional pleasures, a crystal of sugar in his coffee, or what passes for coffee in the Ghetto and his pains, offered a cup of coffee in the world outside, he takes 'a first sip of coffee, but its dark flavour was so redolent of better times that I wasn't sure I ought to drink it.' This simplicity gets to the heart of the characters and I'm not ashamed to admit that I cried, more than once, while reading this book.But this is not a depressing book. Yes it bears witness to a dark period in European history, one that has been and is sadly being repeated for other reasons, in other lands, even now. But, as in his other books, in amongst all the horrors of the Holocaust, there is hope. His characterisation makes it clear that no one is ever completely good, or bad, so there is always hope that goodness will eventually prevail. Also, there is Erik's hope, the heart of the book, that someone will survive and bear witness in order to 'remember the dead in all their uniqueness.'
Review by john257hopper
16/06/2015
A moving novel about a series of murders of children in the Jewish ghetto in Warsaw under Nazi rule, through the slight mystic element jarred slightly for me (the story was narrated by the ghost of an elderly psychiatrist hanged in a labour camp). As one would expect, it is grim and shocking in places.
Review by nicx27
16/06/2015
The blurb for this book made it sound interesting, and like a really good read, and I'm pleased to say that it lived up to my expectations.It is the story of Dr Erik Cohen, as told to a man named Heniek. Erik has been forced into the Jewish Ghetto in Warsaw to live with his niece, Stefa, and her young son, Adam. Erik loves his niece and grand-nephew very much, and in particular he develops a strong relationship with Adam. When Adam is murdered and Erik discovers that he is not the first child to be killed in similar circumstances, he decides to investigate the situation.This is a story with two aspects. The first is Erik's quest to find out who is killing Jewish children. The second is about the life that the Jews had in the ghetto, the conditions they lived in and the lack of basic provisions and I found this aspect very moving throughout the novel, even though Erik, as narrator, never feels sorry for himself.I thought this was an excellent read, and one which I enjoyed more than I could ever have imagined I would. I felt the urge to pick it up and read it at every available opportunity which is a sign that it really engaged me. I'd definitely like to read more of Richard Zimler's work if it's as good as The Warsaw Anagrams.