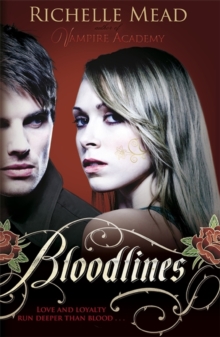 Bloodlines (book 1)
Paperback
Description
The first book in Richelle Mead's bestselling Bloodlines series, set in the world of the international #1 bestselling Vampire Academy series - NOW A MAJOR FILM.
SYDNEY PROTECTS VAMPIRE SECRETS - AND HUMAN LIVES.Sydney belongs to a secret group who dabble in magic and serve to bridge the world of humans and vampires.But when Sydney is torn from her bed in the middle of the night, she fears she's still being punished for her complicated alliance with dhampir Rose Hathaway.
What unfolds is far worse. The sister of Moroi queen Lissa Dragomir is in mortal danger, and goes into hiding.
Now Sydney must act as her protector. The last thing Sydney wants is to be accused of sympathizing with vampires. And now she has to live with one . . .'Exciting, empowering and un-put-downable.' MTV's Hollywood Crush'We're suckers for it!' - Entertainment WeeklyAlso available in the Bloodlines series:Bloodlines (Book 1)Bloodlines: The Golden Lily (Book 2)Bloodlines: The Indigo Spell (Book 3)Bloodlines: The Fiery Heart (Book 4)*And don't miss: Bloodlines: Silver Shadows (Book 5)*Discover where the story began in the bestselling Vampire Academy series:Vampire Academy (Book 1)Vampire Academy: Frostbite (Book 2) Vampire Academy: Shadow Kiss (Book 3)Vampire Academy: Blood Promise (Book 4)Vampire Academy: Spirit Bound (Book 5) Vampire Academy: Last Sacrifice (Book 6)www.richellemead.com Facebook.com/VampireAcademyNovelsFacebook.com/BloodlinesBooks
Information
Format: Paperback
Pages: 448 pages
Publisher: Penguin Books Ltd
Publication Date: 01/08/2011
ISBN: 9780141337111
Other Formats
EPUB from £4.99
eAudiobook MP3 from £8.79
Free Home Delivery
on all orders
Pick up orders
from local bookshops
Reviews
Showing 1 - 2 of 2 reviews.
Review by AdonisGuilfoyle
16/06/2015
I really enjoyed reading Richelle Mead's Vampire Academy books earlier this year - and I mean the whole series, an attention span which is rare for me! With her VA novels, Mead cleverly tweaked the traditional vampire mythology, writing for the <i>Twilight</i> market without dumbing down or sounding preachy, and Rose Hathaway was a fantastic teenage heroine. I even grew attached to the secondary characters, like Alchemist Sydney Sage and the dashing but deep Adrian Ivashkov, hence following the gang into a new series with <i>Bloodlines</i>. The magic of the first series didn't continue into the sequel, however, and I was sadly disappointed.Don't get me wrong, for the intended demographic, <i>Bloodlines</i> is a fantastic story. Sydney, Adrian and Jill - Lissa's half-sister - go undercover in a private high school in Palm Springs, to protect Jill from potential assassins within the Moroi Court. Sydney is not Rose, which she openly admits to - <i>'Rose certainly wouldn't have meekly accepted this job with a simpering 'Yes, sir'. Not like me'</i> - but she's sympathetic and skilled at her job, which is a sort of 'Men in Black' role for vampires and dhampirs. However, her narrative voice lacks any kind of personality, and she is constantly analysing herself and other characters in a simplistic way that Mead managed to avoid for the most part with Rose. I appreciate the distinction - Rose was active, ballsy and passionate, whereas Sydney is a puritanical, over-cautious cold fish - but I preferred reading about the Alchemist through another character's eyes, rather than her own.On the plus side, the story is strong as ever - a trend for replica Alchemist tattooes among rich students is linked to a speight of violent deaths that might be the work of 'vampire hunters' - and Adrian is on top form, even while getting over the love of his life. But the high school setting, full of preppy students talking about dating and dancing like it's still the 1950s, was too immature for my taste (and years), and Sydney's message of liking yourself for who you are came on rather strong at times, with a lack of subtlety which I certainly didn't notice in the Vampire Academy books. Overall, I'm glad I caught up on life after the Academy for Sydney, Adrian and Jill, but I won't be extending my stay in Palm Springs.
Review by bethie-paige
16/06/2015
Did it really have to end like that? Seriously, I feel physically compelled to buy the rest of the series now.<br/><br/>This book was amazing. I had put it off for awhile because I love Vampire Academy so much. I can't wait to read more of this series. I love Sydney's perspective so much. She's much different to Rose but I think it makes for a better narrator. <br/>Some things were a bit predictable but then a heap of things flew out of nowhere. Like Lee. Seriously didn't see that.<br/>Richelle Mead can kinda do that, just pull things out of her sleeve. I love it.<br/><br/>Can't wait to read the next ones. :)
Also in the Bloodlines series | View all