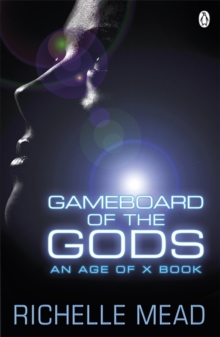 Gameboard of the Gods
Paperback
Part of the Age of X series
Description
Gameboard of the Gods is the first thrilling instalment in the Age of X series from New York Times bestselling author, Richelle Mead In a futuristic world nearly destroyed by religious extremists, Justin March lives in exile.
But Justin is given a second chance when Mae Koskinen comes to bring him back to the Republic of United North America.
Raised in an aristocratic caste, Mae is now a member of the military's most elite and terrifying tier, a soldier with enhanced reflexes and skills. Justin and Mae are assigned to work together to solve a string of ritualistic murders and soon realize that their discoveries have exposed them to terrible danger.
As their investigation races forward, unknown enemies and powers greater than they can imagine are gathering in the shadows, ready to reclaim the world in which humans are merely game pieces on their board. The Age of X is a brand new fantasy series containing all the mythological intrigue and relentless action of the bestselling Vampire Academy and Bloodlines YA series, and is sure to delight fans of Chloe Neill and Jim Butcher. Praise for Richelle Mead: 'The book is fast-paced and suspenseful' Booklist 'An engaging read, with an unusually tangible, believable, living story world, featuring a protagonist of unexpected depth and sympathy' Jim Butcher (on Succubus Blues) Richelle Mead, the New York Times bestselling author of Vampire Academy, lives in Seattle, Washington with her husband and baby.
Gameboard of the Gods is the first in the Age of X series and Richelle's first adult novel.
Information
Format: Paperback
Pages: 464 pages, Illustrations
Publisher: Penguin Books Ltd
Publication Date: 06/06/2013
ISBN: 9781405913553
Free Home Delivery
on all orders
Pick up orders
from local bookshops
Reviews
Showing 1 - 1 of 1 reviews.
Review by wyvernfriend
16/06/2015
Despite some of it's problems I did enjoy this.We start with the worldbuilding, the author treats you as if you know what's going on and then works from there. With the complicated world she has built this is a stretch for the reader, even me, however I liked Justin March and was curious about the Ravens in his head, Horatio and Magnus, and I got a lot of the clues well before he did. Then again I know a lot about a variety of European Gods and Goddesses and had a fairly good idea what was going on with a lot of the issues. The idea of a world where religion was rigidly controled and that one of the investigators had a supernatural episode that caused him to be exiled was interesting and made me want to read more to see how well his life can be messed up by the god war that seems to be looming and how this will change the society he's in.I also liked Mae, she's a mess, outwardly she's perfect but inside at the beginning she has berserk moments (that no-one seems to notice) but by the end everything she thought she knew is messed up. She and Justin are going to have to do a lot to fix their lives, if they can.I was caught up by the story, if you need more/any worldbuilding in a story to start avoid like the plague. Even at the end there was a lot I wanted to know about the society and I have a sneaking suspicion that a lot of it will remain unanswered.