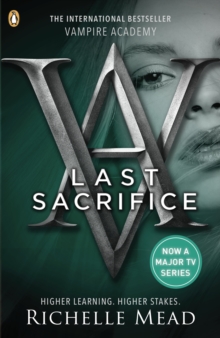 Vampire Academy: Last Sacrifice (book 6)
Paperback
Description
The final heart wrenching episode at St Vladimir's Academy.
Rose is on trial for high treason and the death of Queen Tatiana.
Someone is trying to frame her and it looks like even Dimitri might not be able to save her now.
Information
Format: Paperback
Pages: 592 pages
Publisher: Penguin Books Ltd
Publication Date: 01/12/2010
Category: Fantasy
ISBN: 9780141331881
Free Home Delivery
on all orders
Pick up orders
from local bookshops
Reviews
Showing 1 - 5 of 7 reviews.
Previous | Next
Review by JessicaLouise23
16/06/2015
The Vampire Academy series is by far my all-time favourite series. Last Sacrifice is the highly anticipated last book in the series and so when I was offered the chance to read this book early before its release date I jumped at the chance. When it arrived I had the stupidest grin on my face all day long and started it as soon as I could. I read this 584 page book in two sittings, and I have to say that this is now my favourite book in the series, it surpassed my greatest expectations. It was so. Damn. Good!Last Sacrifice starts off with only two days having passed since where Spirit Bound left off. Rose is awaiting execution for the murder of Tatiana the vampire queen- wrongful execution at that. Time is running out for Rose can Dimitri pull through for her one last time before it's too late? Meanwhile best friend Lissa is trying to prove Rose's innocence in finding out who really killed the queen whilst trying to compete for the royal throne. Can Lissa be queen? Does she even want to be? With the odds against Lissa and Rose both girls find themselves relying on enemies and questioning the people they trust. It's a race against time and both girls realise that to help one another they may have to sacrifice the very thing that matters to them most…each other.The Vampire Academy series has one of the most layered plots that I've ever come across in Young Adult fiction. The world that Richelle Mead has created has so much depth and story. There's so much going on that your constantly gripped wanting to know what happens next. This vampire world is a world that I love to be in, it's so well developed that it actually feels like a real place.I think what makes Vampire Academy shine and stand apart from other vampire fiction is that it's totally original. It's like no other vampire series that I've ever read which is so hard to come across after the success of Twilight. I love that it's nothing like Twilight and other books out there and is confident enough to stand on its own and do its own thing. Vampire Academy has no weak spots. Everything's strong and nothing lets it down. The plots original, the characters are hugely likeable, the writings flawless. The series is simply perfection.What I find really fresh about this series is that although there's an amazing love story, at this books heart is a story about friendship. Deep, loyal, true friendship between two wonderful yet very different girls. Rose and Lissa are brilliant role models for teen readers everywhere, and it's great to find a series that values true friendship above all else.The characters in this series are all wonderful. I would love every single one of them as a friend. Rose is sassy, feisty, fearless, smart and strong and is my all-time favourite heroine. Head strong and confident girls of all ages will look up to and respect her. Fearless Rose, Kind hearted Lissa, Godlike Dimitri, Loyal Christian and snarky Adrian have come to feel like my own best friends. They each have such brilliant, vivid personalities and reading Last Sacrifice felt like saying goodbye to old friends so much so that I tried to slow my reading down towards the end when it dawned on me that I was getting closer and closer to those final pages. Of course I couldn't do it though it was just too good!Last Sacrifice has one of the best plots I've ever come across with never a dull moment making it impossible to put down. Each chapter reveals something new and answers questions that fans of this series have been dying to know. The writings incredible and Richelle definitely ends this series on a high note. I can't imagine fans of Vampire Academy being disappointed with the final book at all. I haven't really gone into the plot that much with this review because I want to keep it spoiler free but you will not be disappointed. All of your questions get answered and so many new things happen along the way. The romance is hot, the betrayals deadly and the writing superb and although everything gets concluded things definitely end on a very interesting note for Richelle Meads new spin off series.I'm so, so sad to see this incredible series come to an end. I've loved every minute spent in this world with such a wonderful cast of characters. I can't wait for more news on Richelle's spin off series if it's even half as good as Rose and Co's story I'm sure were going to be in for a real treat and I really hope the characters from this series make some appearances!If you haven't read this series yet you are truly missing out on something special. I recommend Vampire Academy to everyone who asks me for book recommendations and never have they been disappointed. Fans of this series are going to be blow away by this grand finale. Honestly guys I can't even put into words how much I love this series and how you all need to check it out, in fact what are you waiting for? Why are you still reading this? Go read it now, now, now! Only the highest of recommendations for my favourite series. 5 stars.
Review by bookluvrmindy
16/06/2015
***ALERT***A spoiler quote down at the bottom, but I have marked where you should stop reading**** What an amazing book to end a series! So much happened in this book and I can't believe Richelle Mead pulled it off! Last Sacrifice was not just a book ending a series; it was also an amazing book that could stand-alone. Richelle Mead has already revealed that she will be doing a spin-off series and I could not be more thrilled. So many lives had changed (a lot for the worst) due to this very intense book. A group of new characters were introduced as well. My hopes are that the spin-off will include these people. I would like to point out that I was completely caught off guard by the person who killed the queen and framed Rose. I didn't figure it out until the last minute. For those of you who have not read it yet, ENJOY! Spoiler Below * * * * * * Aside from my extreme happiness that Rose and Dimitri are now together, there were so may things that happened in this book that I just LOVED! I REALLY liked reading about Lissa in her Trials. I would have to say one of my favorite parts of the book was when Joshua proposes to Rose and Angeline fights her to see if she is worthy of her brother. Then Rose, Sydney and Dimitri are heading of to bed and Rose says, "It's not funny!" "Your right," agreed Sydney. "It's not funny. It's hilarious." Here are some quotes for you! 1. Abe (Rose' father)! "Ah, my daughter," he said. "Eighteen, and already you've been accused of murder, aided felons, and acquired a death count higher than most guardians will ever see." He paused. "I couldn't be prouder." I have to say I LOVE ABE! He better be nice to Sydney. 2. "Well, well, well," I said. "If it isn't the people responsible for unleashing Rose Hathaway on the world. You've got a lot to answer for." "Don't blame us," said my mother. "We didn't blow up half the Court, steal a dozen cars, call out a murderer in the middle of a crowd, or get our teenage friend crowned queen." "Actually," said Abe, "I did blow up half the Court."
Review by AdonisGuilfoyle
16/06/2015
The end! Overall, the Vampire Academy series was worth reading, if not keeping now that all the twists and turns have been revealed. Rose is a witty, likeable, active heroine with a very distinctive narrative 'voice', despite her 'charmed life', as Adrian remarks on. Two men love her, and she gets to pick, making the most obvious choice. Some of the revelations in the earlier books surprised me, but Rose's Happy Ever After has always been disappointingly predictable. Barring the nauseating declarations of love, however, who can help but be happy for her, and Lissa, and everyone else? The finale was slightly overlong, repeating a familiar course of events - fugitives on the lam, aided by unlikely allies, to find a crucial secret in the nick of time - but enjoyable and easy to read none the less. I would like to find out more about Sydney, so I might try out Richelle Mead's new series. Adrian is another favourite, so I hope he makes a guest appearance in the spin-off stories. My only small nitpick with this book, and it's purely personal - and international - is the sudden switching of a character's name, due to a printing oversight in previous non-US novels. I was used to Tomas, and had built up a mental image of him based on the name - suddenly he becomes (or reverts) to Mikhail! Consistency would have been preferable, even when perpetuating a mistake.The winning formula of the Vampire Academy books - bar the popular theme of angst-ridden teenage bloodsuckers, of course - is the detailed yet consistent alternative universe of morois, strigois and dhampirs that Richelle Mead has created, based on Romanian mythology. An intelligent but relatable vampire society for more than just the Twilight groupies. I love the royal court, and the dhampirs' mantra of 'they come first', but also the cracks in the noble facade. The fantastic names given to the characters didn't do any harm, either!Recommended to all ages and levels of toleration for the current vampire trend!
Review by wyvernfriend
16/06/2015
And the story winds up, Rose and Lissa have to work away from each other to achieve their mutual goals. This mostly boils down to keeping each other from getting killed and clearing Roses name, finding who really killed the queen will clear Rose. Rose also has to choose between which of her two men are right for her. It leaves some openings for further episodes or instalments but this storyline is resolved.I found it interesting but somehow flat.
Review by katie1802
16/06/2015
*<i>makes drawn out whistle sound</i>*, what a conclusion. The parts where Rose links to Lissa are much better done in this book than in Blood Promise, interesting as hell. Conclusion was......flawed, needed way more things cleared up, but I suspect that will happen in Bloodlines. Some of the mysteries included like the murderer and Lissa's sibling, one was easily figured out, the other sure as hell wasn't.<br/><br/><b>Spoiler Ahead!!!!</b><br/>--------------------------------------------------------------------------------------------------------------------------------------------------------------------------------------------------------------------<br/><br/><br/><br/><br/><br/><br/><br/><br/><br/><br/><br/>Rose and Dimitri, hell yes!
Also in the Vampire Academy series | View all