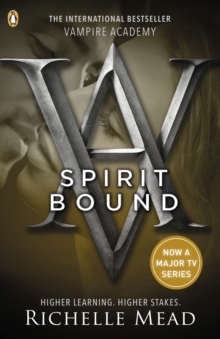 Vampire Academy: Spirit Bound (book 5)
Paperback
Description
Dimitri gave Rose the ultimate choice. And she made the wrong one... After a long and heartbreaking journey to Dimitri's birthplace in Siberia, Rose Hathaway has finally returned to St.
Vladimir's Academy - and to her best friend, Lissa. But Rose's heart still aches for Dimitri, and she knows he's out there, somewhere.
She failed to kill him when she had the chance. And now her worst fears are about to come true- Dimitri has tasted her blood, and now he is hunting her.
Only this time, he won't rest until Rose joins him... forever.
Information
Format: Paperback
Pages: 512 pages
Publisher: Penguin Books Ltd
Publication Date: 06/02/2010
Category: Fantasy
ISBN: 9780141331874
Free Home Delivery
on all orders
Pick up orders
from local bookshops
Reviews
Showing 1 - 3 of 3 reviews.
Review by wyvernfriend
16/06/2015
There were moments when I wanted to slap Rose, she graduates, breaks an evil vampire out of prison, fights Dimitri, gets caught up in politics, finds a possible cure for Dimitri and overall rushes in when supposed to be one of the best-educated guardian of them all. Really? shouldn't tactics and diplomacy have been better taught?The to-ing and fro-ing between Adrian and Dimitri seems a little forced, she really needs to take some time for herself and think this all through instead of this rushing into things headlong. In fact she's more of an argument why they should wait until the guardians are older rather than younger!Overall not bad. Looking forward to seeing what happens next.
Review by Elysianfield
16/06/2015
3.5 stars<br/><br/>Rose is finally graduating from the Academy and only the last trial is ahead. But she hasn't given up on getting Dimitri back and with Lissa's help she uses the information she gathered in Blood Promise. But they need help from Victor who is in prison.<br/><br/>There are times I don't understand what makes me read these books but I can't help myself. I need to know what happens to these people and if they have some sense in the end.<br/><br/>In the last book I thought Rose had finally matured little and damn now were back on square one. Okay, there was parts where she acted like responsible person and the she's back on being childish and selfish. <br/>She's taking guarding Lissa seriously but when her relationships are concerned I just want to slap her. Rose is supposed to be with Adrian, or at least give him a chance but instead she's obsessed getting Dimitri back. And even when Dimitri tells he's no longer interested she just don't get it. And she's still with Adrian! I was reminded how slutty I thought her to be in book 1.<br/><br/>I'm glad that Dimitri is back but oh the drama! I get that he regrets the things he did as strigoi but the way he wants to protect Rose even though she doesn't mind the things he did. Or enough not wanting to be with him anyway.<br/><br/>I'm starting to like Adrian but I wish he finds someone better than Rose to be with. Just saying…
Review by katie1802
16/06/2015
This series really has surpassed Twilight in all imaginable ways, I even feel bad about mentioning it in this review but it has to be said. Rose is awesome, she really is. The next book is going to pretty full of action based on this, but I just hope it has a conclusion that gives Rose everything she deserves, you know, a bit of peace and quiet, as <i>if</i>.
Also in the Vampire Academy series | View all