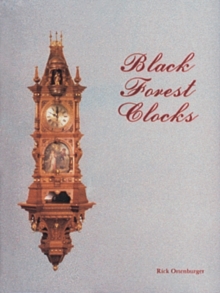 Black Forest Clocks
Hardback
Description
The art of tracking time has been evidenced for over 300 years in the Black Forest area of Germany.
Cuckoo and singing bird clocks, early glass bell, trumpeter, Jockele, animation, and picture frame clocks all have in the Black Forest area by skilled clockmakers who have transformed the function of time into a true form of art through their clocks. Rick Ortenburger's important new study traces the development of this fascinating Black Forest clock industry between about 1700 and 1930.
He provides useful information that will meet the collectors' need and increase the appreciation of the beautiful craft these clocks represent.
Photographs in color and black and white of 600 different examples make the industry's evolution from early cottage farm houses to the later development of factories come to life.
Information
Format: Hardback
Pages: 300 pages, 600+ black forest clocks
Publisher: Schiffer Publishing Ltd
Publication Date: 07/01/1997
ISBN: 9780887403002