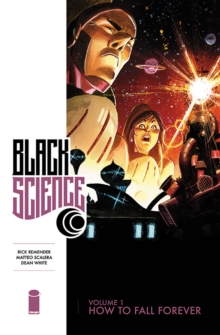 Black Science Volume 1 : How to Fall Forever
Paperback
Description
"A must-read for Remender's fans or anyonethrilled by bizarre and compelling sci-fi." Starred Review -Booklist"There is a lotof meat to this book.
Plenty for everyone to like, or dislike. The dangers arereal. People die. The worldbuilding is solid even though we're jumping throughdifferent realities.
Each of those worlds pops off the page and has their owndistinct look and feel." -Kirkus"This is a solidadventure tale..." - PWGrantMcKay, former member of The Anarchistic Order of Scientists, has finally donethe impossible: He has deciphered Black Science and punched through the barriersof reality.
But what lies beyond the veil is not epiphany, but chaos.
Now Grantand his team are lost, living ghosts shipwrecked on an infinite ocean of alienworlds, barreling through the long-forgotten, ancient, and unimaginable darkrealms.
The only way is forward, through the madness of the lightning sea-swampand a futurepast trenchworld, where the Sons of the Wakan Tech-Tanka wagenever-ending war on the savages of Europe!
How did the Anarchist League ofScientists end up this deep in the onion? And, who among them sabotaged thePillar?
Information
Format: Paperback
Pages: 152 pages
Publisher: Image Comics
Publication Date: 10/06/2014
Category: Science fiction
ISBN: 9781607069676
Free Home Delivery
on all orders
Pick up orders
from local bookshops
Reviews
Showing 1 - 5 of 9 reviews.
Previous | Next
Review by ElizaJane
16/06/2015
I don't really have a lot to say about this, it was not as good as it sounded. It jumped all over the place and was confusing most of the time though it did all come together eventually and made sense. There was a lot of waxing profoundly at the end which got very annoying and I didn't connect with or even like any of the characters. On the otherhand, I did the art a great deal, a lot of dark lines and angular jaws, etc with an atmospheric colour palette.
Review by macha
27/08/2015
okay, i guess, but not spectacular. both the circular writing and the illustrations make it difficult to differentiate between the characters. and nobody in the story is likable or even interesting, so it was difficult to make the effort to differentiate them. especially since their character tended to change with every iteration thrown up. the lead scientist is also unbelievably indifferent to the ethical and physical-universe implications of his time travel technology, while oddly focussed on berating himself for his purely personal failings. meanwhile the altworlds to which they travel are not very imaginative: all the aliens are variations on earth animals, every one of whom is trying to kill them. i get that the whole thing was based on Golden Age pulp SF, but the result here is more of a simplistic parody. and the abrupt shifts in the narrative as the Pillar jumps destabilize all the worlds don't really work as narrative - instead the suspicion arises that the rips-in-the-fabric-of-reality storylines were designed simply to jerk the reader around from one issue to the next. v2 might get better, but i'll never know.
Review by rockinghorsedreams
27/08/2015
Everything you could want in a sci-fi comic book. Fantastic art, great creature and character design, a situation out of control, compelling characters and of course a saboteur sub-plot.
Review by ragwaine
16/06/2015
This was pretty sweet. It has kind of a retro Heavy Metal (the movie) feel. They're basically "falling" through dimensions and each one has awesome aliens or alternate history stuff going on. About 50% of it is them getting chased around trying to survive while the main character berets himself through an inner dialogue. I like the writing a lot and it makes me wonder if you could write successful prose like that where there's constant action but also constant pontificating/philosophizing.Looking forward to volume 2.
Review by Chris_El
16/06/2015
Interesting premise. A machine is built that hurls a group of people from one alternate reality to another across the cosmos. But someone sabotaged the machine so they can't make is stop moving them or send them back home. The art work is pretty good and the story is interesting so far. I'm in for the hardcover when it comes out.