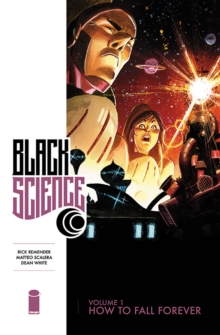 Black Science Volume 1: How to Fall Forever
Paperback / softback
Description
"A must-read for Remender's fans or anyonethrilled by bizarre and compelling sci-fi." Starred Review -Booklist"There is a lotof meat to this book.
Plenty for everyone to like, or dislike. The dangers arereal. People die. The worldbuilding is solid even though we're jumping throughdifferent realities.
Each of those worlds pops off the page and has their owndistinct look and feel." -Kirkus"This is a solidadventure tale..." - PWGrantMcKay, former member of The Anarchistic Order of Scientists, has finally donethe impossible: He has deciphered Black Science and punched through the barriersof reality.
But what lies beyond the veil is not epiphany, but chaos.
Now Grantand his team are lost, living ghosts shipwrecked on an infinite ocean of alienworlds, barreling through the long-forgotten, ancient, and unimaginable darkrealms.
The only way is forward, through the madness of the lightning sea-swampand a futurepast trenchworld, where the Sons of the Wakan Tech-Tanka wagenever-ending war on the savages of Europe!
How did the Anarchist League ofScientists end up this deep in the onion? And, who among them sabotaged thePillar?
Information
Format: Paperback / softback
Pages: 152 pages
Publisher: Image Comics
Publication Date: 10/06/2014
Category: Science fiction
ISBN: 9781607069676
Free Home Delivery
on all orders
Pick up orders
from local bookshops