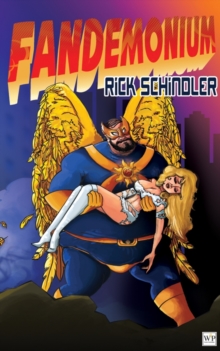 Fandemonium : A Comic Novel
Paperback
Description
Ray Sirico used to have it all. Once, he was the brilliant and outrageous Clown Prince of Comics, who reinvented the venerable superhero Skylord, and ranted and rollicked everywhere from TV talk shows to Hollywood premieres. But that was in the '70s and '80s. Now it's 1993, and Sirico is a drunken has-been. His wife has left him, his movie flopped, and his comics' publisher is doing so poorly that its new corporate parent has come up with a radical marketing stunt: the Death of Skylord. Together, antihero Sirico and his superhero Skylord stand at the crossroads of comics and commerce, where quirky creators, fervent fans, conniving businessmen and preening celebrities converge.
Deal-making, drug-dealing, love-making and truth-telling all collide at the riotous climax of a fateful weekend that leaves no one unchanged. Fandemonium uses the colourful world of comics and fantasy as a microcosm and metaphor for media consolidation and the excesses of global mass culture.
It is at once a hilarious satire of business and society, a portrait of an artist no longer young, and a sometimes poignant look at a universal challenge: to grow up, face the world, and put away childish things.
Information
Format: Paperback
Pages: 400 pages
Publisher: Wattle Publishing Limited
Publication Date: 31/05/2013
ISBN: 9781908959225
Free Home Delivery
on all orders
Pick up orders
from local bookshops