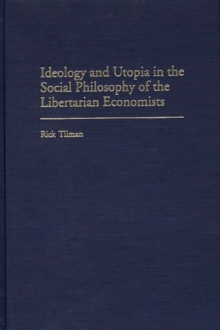 Ideology and Utopia in the Social Philosophy of the Libertarian Economists
Hardback
Description
Challenging the libertarians' definition of freedom and democracy, this study portrays the social philosophy of Milton Friedman, James Buchanan, Friedrich Hayek, and George Stigler as the bulwark of an attack on welfare and regulatory state collectivism and as undermining majoritarian democracy, political and civil liberties, and social equality.
The book opens with Frank Knight's doctrines and their impact on the Chicago laissez faire economists, places libertarianism within the American tradition of empirical collectivism, and explores Friedrich Hayek's road-to-serfdom thesis within the context of the New Deal. Posing problems of corporate power, it uses Friedman, Stigler, and Buchanan as examples of libertarian denial of these problems and, in a consideration of the debate between the New Left and Libertarian Right, contrasts their ideologies. The work concludes with a historical summing up that juxtaposes the recent past to the present, links libertarian material interests with the growth of corporate hegemony, and portrays the right wing of neoclassical economics as an intellectual bulwark of business culture. The emergent plutocracy that we now live in, including the erosion of democratic theory and practice, owes a significant part of its doctrinal and political sustenance to the influence of the free market economists who are the subject of this book.
The study is the first to use the unpublished papers of libertarians James Buchanan, Gordon Tullock, Milton Friedman, and George Stigler to bring their interpretations of the meaning of freedom and democracy into question.
Information
Format: Hardback
Pages: 224 pages
Publisher: ABC-CLIO
Publication Date: 28/02/2001
ISBN: 9780313315589
Free Home Delivery
on all orders
Pick up orders
from local bookshops