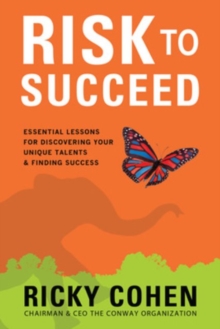 Risk to Succeed: Essential Lessons for Discovering Your Unique Talents and Finding Success
Hardback
Description
A NEW BUSINESS PARABLE FOR OUR TIMESAccording to the laws of the jungle, a baby elephant can survive only if it stands on its own in the first few hours after being born. These laws also apply to your own survival--and ultimate success--in the business world today. From Ricky Cohen, educator, entrepreneur, and renowned CEO of The Conway Organization, comes an inspiring new business parable for our unprecedented times.
It is the story of a young elephant named Bella who is not content to move with the herd.
She longs to venture out on her own. Searching. Exploring. Making her way in the world. Soon she forms an unlikely friendship with a colorful butterfly named Cee, who teaches Bella the importance of taking risks and other essential lessons--timeless "laws of the jungle" that you can apply to every aspect of your life:"Life begins with courage.""Smart is the new rich.""Stumbling is a gift.""What you seek lies within you.""Believe in life: Always."and much more... Whether you're an entrepreneur with a dream, a manager on the rise, or a leader with a vision, this charming and insightful parable will guide you on your way through life's greatest journey.
This is the way to Risk to Succeed. Includes a self-revealing Mirror Test, morning writing exercises, and the 4 Questions to Jungle Life. Praise for Risk to Succeed"I read it in one sitting and couldn't put it down!
There's not a person out there in any walk of life who won't benefit from the message of Risk to Succeed.
Truly an owner's manual for life!" -- Judi Franco, host of The Dennis and Judi Show, NJ 101.5 FM"Yes, you can have it all.
This book gives you a path to achieving it all. No excuses are acceptable. Get out and reach for the stars and fly." -- Joseph Shamie, CEO and President, Delta Children's Products"[Ricky Cohen] challenges many of our excuses for not achieving our own personal greatness in a playful yet thought-provoking way. . . . A fun read to put you on the road to achieving all you can in life." -- Jesse Sutton, CEO, Majesco Entertainment"Ricky Cohen adeptly captures the essence of what it takes to be a success in the business world and seamlessly transfers it to the reader. . . . A must for all prospective entrepreneurs." -- Stanley S.
Schrem, M.D., F.A.C.C., Assistant Clinical Professor, The NYU-Langone Medical Center, and Vice President of The New York Medical Associates P.C. "[A] fantastic blueprint for success in all the dimensions of one's life." -- Abe D.
Tawil, Professor at CUNY Baruch College, MBA, MA, MD, JD
Information
Format: Hardback
Pages: 128 pages
Publisher: McGraw-Hill Education - Europe
Publication Date: 12/11/2012
Category: Business & management
ISBN: 9780071809078
Free Home Delivery
on all orders
Pick up orders
from local bookshops