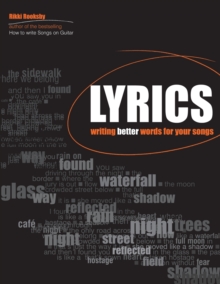 Rikky Rooksby : Lyrics - Writing Better Words for Your Songs
Paperback
Description
This new title in best-selling "Songwriting" series offers a wealth of fresh ideas on all aspects of lyric writing, and includes a Handy Rhyming Dictionary.
It is suitable for novices as well as professionals The lyric of a song is the dimension where the emotion of the music finds a specific focus and expression.
Lyrics inscribe the meanings of a song. The best lyrics find an echo in the lives of millions.
Some have even defined a generation, its rites of passage, and its perspective on the world.
Yet of all the songwriting arts the lyricist's is probably the least-appreciated and the least-discussed.
The latest in Backbeat's best-selling songwriting series, "Lyrics" will shed light on all aspects of lyric writing.
If you write songs but never like your lyrics, if you find it hard to write lyrics, or if you would like to write lyrics so you can offer them to someone else to set to music in a partnership, this book will tell you all you need to know.
Section by section you are taken on a guided tour of the art of lyric-writing, taking in all aspects of putting together words, from themes to point-of-view, from rhymes to hooks and titles. There are literally hundreds of references to famous songs from the 1950s onwards and up to the present day and discussions of a small number of classic lyrics, as well as a handy rhyming dictionary. "Lyrics" is a book which will make the reader feel more confident and more creative in the matter of writing song lyrics.
Topics covered in "Lyrics" include: how to explore imagery and metaphor and avoid cliches; how and where to get ideas and overcome writer's block; and, how to set words to music.
This is the latest title in Rikky Rooksby's series of books for songwriters, following on from the best-selling "How To Write Songs On Guitar", "Riffs", "The Songwriting Sourcebook", "Chord Master", and "How to Write Melody".
Information
Format: Paperback
Pages: 174 pages
Publisher: Backbeat Books
Publication Date: 28/04/2006
Category: Theory of music & musicology
ISBN: 9780879308858
Free Home Delivery
on all orders
Pick up orders
from local bookshops