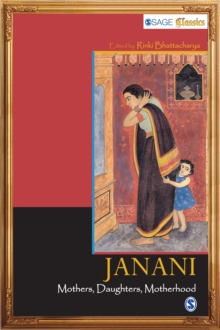 JANANI-Mothers, Daughters, Motherhood
Paperback / softback
Description
SAGE Classics is a carefully selected list that every discerning reader will want to possess, re-read and enjoy for a long time.
These are now priced lower than the original, but is the same version published earlier.
SAGE`s commitment to quality remains unchanged. Janani, or mother as the creator of life, defines this narrative collection.
The book brings together autobiographical writings of women from many walks of life-noted authors, artists, academics-to share their experiences of being mothers, daughters, or both.
The accounts combine memory and nostalgia in nuanced detail, making each narrative heart-warming and, at times, profoundly challenging. The contributors abandon their public faces to provide humane, intimate and compelling narratives.
The collection includes accounts of adoptive motherhood, stepmothering and single motherhood.
On the One hand, the reader encounters the wrenching pain of an abortion, while on the other, the choice of a women determined not to be a mother.
The Janani stories vividly explore the whole gamut of motherhood. Immensely readable, the volume has a wide appeal-not just for mothers and daughters, but for fathers and sons as well; in fact, for all those who celebrate the rare gift of human relationships.
Information
Format: Paperback / softback
Pages: 212 pages
Publisher: SAGE Publications India Pvt Ltd
Publication Date: 23/01/2013
Category: Gender studies, gender groups
ISBN: 9788132111344
Also in the SAGE Classics series