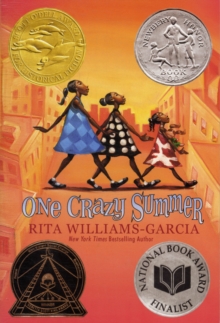 One Crazy Summer
Paperback
Description
In this Newbery Honor novel, New York Times bestselling author Rita Williams-Garcia tells the story of three sisters who travel to Oakland, California, in 1968 to meet the mother who abandoned them.Eleven-year-old Delphine is like a mother to her two younger sisters, Vonetta and Fern.
She's had to be, ever since their mother, Cecile, left them seven years ago for a radical new life in California.
But when the sisters arrive from Brooklyn to spend the summer with their mother, Cecile is nothing like they imagined.
While the girls hope to go to Disneyland and meet Tinker Bell, their mother sends them to a day camp run by the Black Panthers.
Unexpectedly, Delphine, Vonetta, and Fern learn much about their family, their country, and themselves during one truly crazy summer.This moving, funny novel won the Scott O'Dell Award for Historical Fiction and the Coretta Scott King Award and was a National Book Award Finalist.
Delphine, Vonetta, and Fern's story continues in P.S.
Be Eleven and Gone Crazy in Alabama. Readers who enjoy Christopher Paul Curtis's The Watsons Go to Birmingham and Jacqueline Woodson's Brown Girl Dreaming will find much to love in One Crazy Summer.
This novel was the first featured title for Marley D's Reading Party, launched after the success of #1000BlackGirlBooks.
Maria Russo, in a New York Times list of "great kids' books with diverse characters," called it "witty and original."
Information
Format: Paperback
Pages: 240 pages
Publisher: HarperCollins Publishers Inc
Publication Date: 27/12/2011
Category: General
ISBN: 9780060760908
Free Home Delivery
on all orders
Pick up orders
from local bookshops
Reviews
Showing 1 - 5 of 27 reviews.
Previous | Next
Review by claudiathelibrarian
16/06/2015
5Q- 17 awards and honors don't lie. This book is excellent, heart-wrenching, warm, and interesting. It is real.3P- Kids might not pick this book up off the shelf without some encouragement. The new cover, which includes the medal, is an improvement and might change that.
Review by ewyatt
16/06/2015
Delphine, Vonetta, and Fern, fly across the country from NY to California, to spend a month with the mother who left them. During the summer, their mother, who does not behave in a very maternal manner, doesn't seem to want them around and instructs them to go to the People's Center for breakfast and the summer programs. The girls learn about the Black Panthers. It's hard to watch Delphine have to care for her sisters and demand what the girls need from their mother. Celine (Nzila) gets arrested and the girls still fend for themselves. Eventually some of the mother's backstory is revealed. The story offers an interesting look at 1968 in Oakland.
Review by SJKessel
16/06/2015
Williams-Garcia, R. (2010). One Crazy Summer. New York: Amistad.215 pages.Appetizer: During the summer of 1968, eleven-year-old Delphine and her two little sisters are on their way to Oakland to spend a month with their mother who left them and their father almost six years ago.The woman that meets Delphine, Vonetta and Fern at the airport is a bit strange, keeping her face hidden. Her house is also a bit unusual and their mother, Cecile, won't let the girls go in the kitchen. It doesn't take long for Delphine to realize that their mother is crazy. But soon after that, they realize that there may be a reason behind some of Cecile's strange behavior: she may be involved with the Black Panthers.This book (currently being talked about as a potential winner for both the Coretta Scott King and Newbery awards) has a lot of social studies tie-ins. It was also easy to relate to Delphine emotionally. She's responsible for her sisters and takes her job very seriously. I also felt so awful for these girls after they arrived in Oakland. Hungry after a long flight, their mother refuses to feed them unless they give her all of the money their father had given them. It gave me the nervy-creepers.And I realized that if this woman, if Cecile, were my mother. I would have died a slow painful death to starvation.One of the subplots of the book involves Fern carrying around her beloved doll, Miss Patty Cake. This causes some trouble for her and her sisters since the doll is white. Delphine narrates:"No one could call Fern White Baby Lover even though Miss Patty Cake was a white baby and Fern loved her. No one could call Fern a Big Baby but Vonetta and me...But I didn't care. Fern could love Miss Patty Cake all she wanted. We could call ourselves Vanilla Wafers, Chocolate Chips, or Oreo Cookies for all I cared about black girls and colored girls" (p.67).I thought this element of the text (as well as some others) would be a great way to begin discussing how race is perceived in this country. I'd probably pair this portion of the book with this video of a recreation of Clark's Doll study.So, I have to admit, while there are a lot of awesome uses for this book in a classroom and while Delphine is a relatable and well-constructed character who shares about an important aspect of history well, nothing about this story drove me I-can't-put-this-down-I-love-this-book-crazy. I read it to get through it. And I think my childhood-self would have approached the book in the same way. I think it drove me a little crazy to see exactly how responsible Delphine was for caring for her sisters. As I was reading, I'd think "What about Delphine?! Nobody puts Delphine in a corner!" and the like. The girl was a nanny machine. I suppose my difficulty connecting with her could be the fact that I'm an only child or the fact that in the presence of my mom I revert to being a baby (metaphorically speaking, of course). So, despite Delphine's struggles over what to believe and the fact that her superhero ability to care for her siblings was addressed, she just felt like a too perfect character who never really got a chance to breathe. Ever.But that's just me. My personal reaction certainly won't stop me from recommending this book to...oh, everyone.Dinner Conversation: "Good thing the plane had seat belts and we'd been strapped in tight before takeoff. Without them, that last jolt would have been enough to throw Vonetta into orbit and Fern across the aisle. Still, I anchored myself and my sisters best as I could to brace us for whatever came next" (p. 1)."Mother is a statement of fact. Cecile Johnson gave birth to us. We came out of Cecile Johnson. In the animal kingdom that makes her our mother. Every mammal on the planet has a mother, dead or alive. Ran off or stayed put. Cecile Johnson--mammal birth giver, alive, an abandoner--is our mother. A statement of fact.Even in the song we sing when we miss having a mother--and not her but a mother, period--we sing about a mother. "Mother's gotta go now, la-la-la-la-la..." Never Mommy, Mom, Mama, or Ma.Mommy gets up to give you a glass of water in the middle of the night. Mom invites your friends inside when it's raining. Mama burns your ears with the hot comb to make your hair look pretty for class picture day. Ma is sore and worn out from wringing your wet clothes and hanging them to dry; Ma needs peace and quiet at the end of the day.We don't have one of those. We have a statement of fact" (p. 14)."I was sure they were Black Panthers. They were on the news a lot lately. The Panthers on TV said they were in communities to protect poor black people from the powerful; to provide things like food, clothing and medical help; and to fight racism. Even so, most people were afraid of Black Panthers because they carried rifles and shouted "Black Power." From what I could see, these three didn't have rifles, and Cecile didn't seem afraid" (p. 45).Tasty Rating: !!!
Review by smheatherly2
16/06/2015
Fantastic main character Delphine has had to grow up much too soon because her mother left the family when her youngest sister was still an infant. Dad thought it would be good for the three sisters to meet their mother, to form their own opinion, and are sent from Brooklyn to Oakland for the summer. They learn a lot about themselves, their mother as well as the Black Panthers.
Review by agrudzien
16/06/2015
In the summer of 1968, things are changing all across the United States. Delphine, Vonetta, and Fern are finally off to stay with their mother for the first time since she walked out when Fern was a baby. The only problem is, their mother Cecile, is so involved in her own life and the fight for civil rights (with the Black Panthers) that she leaves a lot of the important things up to the girls. Delphine takes over, and the girls are in for the summer of their lives as they watch the tumultuous summer buzz around them. I enjoyed this book for it's interesting perspective on the Civil Rights Movement. I haven't read much about the Black Panthers, especially in children's literature, and I found it facsinating. This book would be a good companion to a study on the Civil Rights Movement or for a reader who was interested in that time period or the Black Panthers in particular.