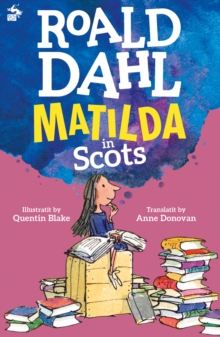 Please note: eBooks can only be purchased with a UK issued credit card and all our eBooks (ePub and PDF) are DRM protected.
Description
Matilda is the world's most famous bookworm, no thanks to her ghastly parents. Her father thinks she's a little scab. Her mother spends all afternoon playing bingo. And her headmistress, Miss Trunchbull? She's the worst of all. She's a big bully, who thinks all her pupils are rotten and locks them in the dreaded Chokey. Despite these beastly grownups trying to push her down, Matilda is an extraordinary girl with a magical mind. And she's had enough. So all the terrible adults had better watch out, because she's going to teach them a lesson they'll never forget! This translation into Scots is a timely addition to the growing number of high quality books available to children and young people to read in the wonderfully rich and expressive Scots language.
Matilda Wormwidd'sfaither thinks she's a wee scab. Matilda's mither spends every efternoon at the bingo. And Matilda's Heidie, Miss Trunchbull? Weel, she's a muckle great bully, wha thinks aw her pupils are pizenous wee plooks and locks them in the dreided Chowker. As for Matilda, she's an extraordinar wee lassie wi a magical mind - and noo she's hud eneuch. So aw these grown ups hud better tak tent, because Matilda is gonnae teach them a lesson they'll no forget.
Information
Format:EPUB
Pages:256 pages
Publisher:Black & White Publishing
Publication Date:24/10/2019
Category:
ISBN:9781785302961
Other Formats
Paperback / softback from £5.89