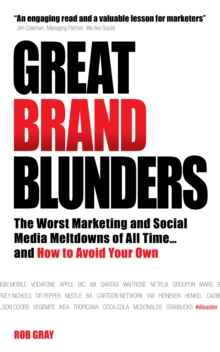 Great Brand Blunders : The Worst Marketing and Social Media Meltdowns of All Time...and How to Avoid Your Own
Paperback / softback
Description
What causes some marketing campaigns to go spectacularly wrong?
Why might new product launches, publicity stunts or rebranding exercises be doomed to failure?
How can you prevent a social media backlash spiralling out of control?
When should you apologise, cut your losses, make a U-turn?
Great Brand Blunders takes an informed and at times acerbic look at the worst marketing and social media disasters of all time - and treats them as an amazing learning opportunity.
The first book for several years to examine brand failures - and the first with a special focus on social media - Great Brand Blunders offers a mix of entertaining commentary and authoritative advice, and features several first-hand interviews with those involved.
A fascinating roll-call of over 150 A-list brands in sticky situations, the book will be required reading not only for professional marketers, academics and students, but for anyone interested in the gritty stories and testing challenges that lie behind the polished brand images marketers hope to present to the public.
From awful advertising to ridiculous brand extensions, via misguided sales promotions and ill-conceived social media activity, Great Brand Blunders pulls no punches, putting rash decisions under the microscope and offering advice on how to avoid landing in the same foul mess yourself.
Information
Format: Paperback / softback
Pages: 240 pages
Publisher: Crimson Publishing
Publication Date: 25/02/2014
Category: Sales & marketing
ISBN: 9781780592299