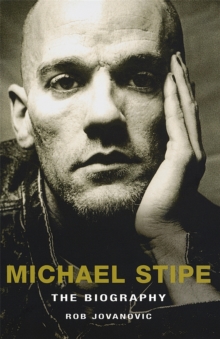 Michael Stipe : The Biography
Paperback
Description
For the last quarter of a century Michael Stipe has been the lead singer of R.E.M, who from their humble beginnings toured and built a steadily growing legion of fans before breaking into the mainstream during the early 1990s.
Today Stipe is one of the most instantly recognisable faces in rock and R.E.M. are held in a respect that only 25 years of excellent song writing and hard work can justify.
But Stipe is much more than just the singer. Michael Stipe: The Biography will explore his nomadic early years as the child in a military family, his early love of punk and photography, his relationship with his two sisters and the drive behind one of the hardest working men in music.
When not working with R.E.M. Stipe has a keen interest in film making, from pop videos and independent shorts to producing big budget full-length movies; he is keenly interested in politics, he led high profile endorsements of the Democratic party in recent elections and for many years has been a champion of environmental concerns.
Using first hand testimony from those who have worked closely with Stipe, Jovanovic presents a rounded picture of this most enigmatic of pop stars.
Information
Format: Paperback
Pages: 256 pages
Publisher: Little, Brown Book Group
Publication Date: 30/12/2006
Category: Rock & Pop music
ISBN: 9780749951474
Free Home Delivery
on all orders
Pick up orders
from local bookshops
Reviews
Showing 1 - 2 of 2 reviews.
Review by JonArnold
16/06/2015
This won't give you any insight into the playfully enigmatic Stipe, nor R.E.M., that you won't find in the myriad band histories. It's a breezy narrative of Stipe's life that seems mostly compiled from fairly well known articles and quotes, so the lack of claimed psychological insight is probably a good thing. The question has to be asked though, given the bulk of the material naturally gravitates toward Stipe's day job, which has been covered innumerable times (at least once by this author), what's the point? It doesn't have any insider material, nor play the Stipe angle up strongly enough to offer anything new or unique enough to be worth a purchase for anyone bar an R.E.M. completist. And that's a shame because there's enough interesting hints to suggest there's a fascinating biography about Stipe waiting to be written, it'd just need more material than could be gleaned from press clippings.
Review by ironicqueery
16/06/2015
Rob Jovanovic's biography of Michael Stipe is an interesting enough read if you are a fairly big fan of R.E.M.. However, most of Jovanovic's information is culled from other interviews, so he doesn't have access to very much inside information about Stipe. The book's focus is primarily on Stipe and how he integrated and acted within the band, not apart from it. There are interesting tidbits here and there, but overall this is a fairly basic informational book about Michael Stipe and R.E.M..