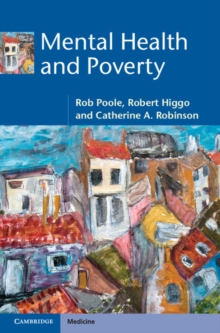 Mental Health and Poverty
Hardback
Description
There is strong scientific evidence that poverty is a cause of mental illness.
This book brings together a body of knowledge from biomedical and social science literature that is of importance to both academics and practitioners.
It explores a broad range of issues, including stigma, the recovery model and substance misuse.
The role of childhood adversity is examined, together with other potential causal mechanisms.
The content is accessible and engaging, with numerous references pointing readers to the best resources for further information.
Poverty is not inevitable, even in a difficult economic climate.
The time is ripe for a scientific consensus to inform realistic, hopeful and optimistic campaigns to reduce inequality in the interests of public health and well being.
This book provides an evidence-based resource for mental health professionals, social scientists and their students.
It will be of interest far beyond those professionally involved in mental health services and research.
Information
Format: Hardback
Pages: 192 pages
Publisher: Cambridge University Press
Publication Date: 19/12/2013
Category: Poverty & unemployment
ISBN: 9780521143967
Also by Rob Poole