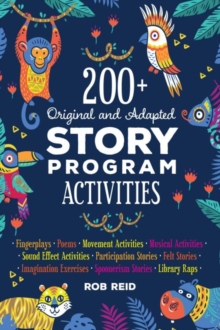 200+ Original and Adapted Story Program Activities
Paperback / softback
Description
From master storyteller and storytimes creator Reid comes this delightful assortment of activities ready for use by children's librarians, elementary-level media specialists, and early childhood instructors.
Reid's bountiful compendium of his "greatest hits" includes original and adapted fingerplays, poems, activities involving movement and music, participation stories, felt stories, imagination exercises, spoonerism stories, and library raps.
With ideas that are perfect for mixing and matching according to audience, setting, and program length, this bookoffers activities suitable for a variety of ages, from children as young as preschool age through middle school students;begins with "Hello Activities" and ends with "Goodbye Activities";includes categories such as "The Animal World," "My World," "More Fun," and "The Literary World"; andrecommends picture books published between 2012 and 2017 to share with children immediately before or after presenting the activity. Drawn from thousands of hours of programming, these time-tested activities will engage young ones as well as their parents and caregivers.
Information
Format: Paperback / softback
Pages: 280 pages
Publisher: American Library Association
Publication Date: 30/11/2018
Category: Library & information sciences
ISBN: 9780838917381