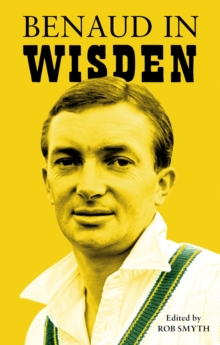 Benaud in Wisden
Hardback
Description
Richie Benaud, who died this year aged 84, was "perhaps the most influential cricketer and cricket personality since the Second World War" according to Gideon Haigh, the world's best cricket historian.
He excelled as a batsman, legspin bowler, revolutionary captain - and most of all as a commentator in England and Australia for almost 50 years.
He was universally loved for his authority, knowledge, dry wit and generosity of spirit.
Benaud in Wisden records the highlights of an exceptional career both as a player and a journalist.
There are edited reports on each of his 63 Test matches, including the legendary Tied Test of 1960-61 and the match at Old Trafford in 1961 when Benaud memorably stole the Ashes from England. "If one player, more than any other, has deserved the goodwill of cricket for lifting the game out of the doldrums, that man is Richard Benaud," said Wisden in 1962. The book also includes a series of articles written by Benaud in the Wisden Almanack after his retirement, as well as features from Wisden Cricket Monthly, The Wisden Cricketer and Wisden Asia Cricket.
Benaud's impact was so great, and so enduring, that the book will appeal to teenagers, nonagenarians and everybody in between.
It is the definitive record of a unique career.
Information
Format: Hardback
Pages: 208 pages
Publisher: Bloomsbury Publishing PLC
Publication Date: 05/11/2015
ISBN: 9781472926456
Free Home Delivery
on all orders
Pick up orders
from local bookshops
Reviews
Showing 1 - 1 of 1 reviews.
Review by atticusfinch1048
27/01/2016
Benaud in Wisden – A Fitting MemorialDepending on your age the later Richie Benaud was one of the classiest Australian cricketers to grace the game or for my generation the voice of televised cricket. As is fitting the cricket Bible Wisden over the years has collected, besides his various records with bat and ball, various essays, the reports of the 63 tests he played in and not forgetting the Ashes series that he took part in.Rob Smyth has drawn together some of the most interesting material from the game that not only Benaud wrote about, but also those written about Benaud from the likes of Jonathan Agnew and Norman Preston.As one reads, the rich voice of Benaud comes off every page in this short anthology of his career, as cricketer and broadcaster, the book in 197 pages is a fitting tribute. As an anorak of the game and statistics there is a season by season report on his career. One of the statistics that stood out to me is from the 1954-55 when Benaud was opening for the Prime Minister's XI had a knock of 113 in 96 minutes, when compared to some today struggle to get that score in a day.Something that Jonathan Agnew touches on in his short piece on Benaud, points out something that cricket commentators everywhere today could do with taking note of and try. "Richie more than anyone – has mastered the art of speaking only when it is absolutely necessary." Something I wish today's commentators should do instead of stating the obvious, cricket fans are not stupid.Benaud in Wisden is a wonderful book, something that you can read at anytime that will always give pleasure. This short anthology is the book any cricket fan would expect Wisden to produce and have done their subject well.