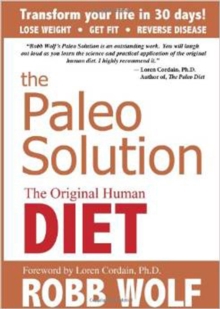 The Paleo Solution : The Original Human Diet
Hardback
Description
Do you want to lose fat and stay young, all while avoiding cancer, diabetes, heart disease, Parkinson's, Alzheimer's and a host of other illnesses?oThe Paleo Solutionoincorporates the latest, cutting edge research from genetics, biochemistry and anthropology to help you look, feel and perform your best.
Written by Robb Wolf, a research biochemist who traded in his lab coat and pocket protector for a whistle and a stopwatch to become one of the most sought after strength and conditioning coaches in the world.o
Information
Format: Hardback
Pages: 322 pages, 1 Illustrations, unspecified
Publisher: Simon & Schuster
Publication Date: 10/09/2010
Category: Diets & dieting
ISBN: 9780982565841
Free Home Delivery
on all orders
Pick up orders
from local bookshops
Reviews
Showing 1 - 5 of 7 reviews.
Previous | Next
Review by sketchedsoul
16/06/2015
I definitely didn't expect it to be this enjoyable! Loved all the humor and the geeked-out info as well.The information is very concise - with a lot covered in few pages. As someone who already follows a paleo life style, I know it works but wasn't very clear on all the reasoning behind the results. Robb pretty much cleared up every question I could have asked plus I have lots of new recipes to try!
Review by dk_phoenix
16/06/2015
Whether you're a fan or not of Paleo eating, exercise, or self-help books... this is one seriously entertaining read!!! Robb Wolf is hysterical, very tongue-in-cheek, and is not above smacking his readers around a little, but in a good way! He presents Paleo eating & lifestyle with humor, sarcasm, SCIENCE, and a heavy dose of reality.Honestly, even if I wasn't interested in eating Paleo, I'd probably have enjoyed the book.I read this one because I'd heard that a Paleo-style way of eating could be highly beneficial to my particular health issue, and my husband had actually been eating this way for several months without realizing that it was an actual well-known way of eating (and he's lost over 50 lbs since going low-carb, high-protein). As of yesterday, I'm four weeks off grains, legumes, dairy, and refined sugar. I've made a few modifications of my own to the Paleo plan and I'm not one of the paleo police (ie. people who take things waaay too seriously... but you'll find that with any non-traditional way of eating), and aside from the health issues I'm dealing with, I feel amazing. My doctor also approved it and thought I looked great, which was so nice to hear....and it's not as hard as you might think when you hear "no grains." Do you eat a piece of chicken, or steak with your dinner? Some steamed veggies? A green salad? That's Paleo! You're probably already doing it some days of the week, and you didn't realize.The book is hilarious and fantastic, and I've seen the honest, REAL results that eating and living this way (ie. exercising!!!) can have in my own life and my husband's life. Even if you're not interested in Paleo, it's a great read... and for skeptics, Wolf has pages and pages of references so you can check up on all the science points he discusses (which he encourages!).Loved it.
Review by okdork
16/06/2015
really technical. great recipes. some good highlights. could have been simplified but worth skimming.
Review by anneearney
16/06/2015
Lots of useful information, if a little overly technical at times. Writing style is sometimes annoying.
Review by lente
16/06/2015
It's an okay book. It champions one particular view of the paleo diet and that can be a bit misleading. Thinking has evolved to allow for different interpretations that are not mentioned in this book. This is not a bad book to read, but don't make it your only source of information about the paleo diet.
Also by Robb Wolf