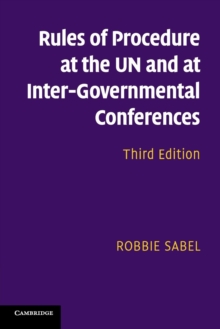 Rules of Procedure at the UN and at Inter-Governmental Conferences
Paperback / softback
Description
This third edition is a comprehensive manual of the rules of procedure and conduct of business at the UN General Assembly, at international conferences and at assemblies of inter-governmental organisations such as the World Health Organization.
It examines the legal basis of these rules, the history of their development and the attempts at their codification.
At the heart of the book is an examination of the practical applications of rules of procedure.
Procedural rulings, updated to October 2016, are quoted from the records of UN General Assembly meetings, from assemblies of international organisations and from treaty-making conferences.
This book is of interest to those involved in international law, international relations and international organisations.
It also serves as an indispensable practical guide for delegates to the UN General Assembly and to international inter-governmental conferences.
The first edition of this book was awarded the American Society of International Law 'Special Award'.
Information
Format: Paperback / softback
Pages: 518 pages
Publisher: Cambridge University Press
Publication Date: 06/12/2018
ISBN: 9781316624852