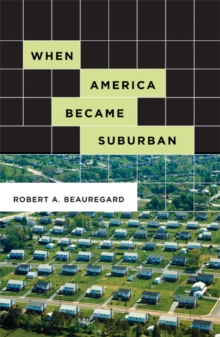 When America Became Suburban
Paperback / softback
Description
In the decades after World War II, the United States became the most prosperous nation in the world and a superpower whose dominance was symbolized by the American suburbs.
Spurred by the decline of its industrial cities and by mass suburbanization, people imagined a new national identity-one that emphasized consumerism, social mobility, and a suburban lifestyle.
The urbanity of the city was lost. In When America Became Suburban, Robert A. Beauregard examines this historic intersection of urban decline, mass suburbanization, domestic prosperity, and U.S. global aspirations as it unfolded from 1945 to the mid-1970s.
Suburban expansion and the subsequent emergence of sprawling Sunbelt cities transformed every aspect of American society.
Assessing the global implications of America's suburban way of life as evidence of the superiority of capitalist democracy, Beauregard traces how the suburban ideology enabled America to distinguish itself from both the Communist bloc and Western Europe, thereby deepening its claim of exceptionalism on the world-historical stage.Placing the decline of America's industrial cities and the rise of vast suburban housing and retail spaces into a cultural, political, and global context, Beauregard illuminates how these phenomena contributed to a changing notion of America's identity at home and abroad.
When America Became Suburban brings to light the profound implications of de-urbanization: from the siphoning of investments from the cities and the effect on the quality of life for those left behind to a profound shift in national identity.Robert A.
Beauregard is a professor in the Graduate School of Architecture, Planning, and Preservation at Columbia University.
He is the author of Voices of Decline: The Postwar Fate of U.S.
Cities and editor of Economic Restructuring and Political Response and Atop the Urban Hierarchy.
Information
Format:Paperback / softback
Pages:288 pages
Publisher:University of Minnesota Press
Publication Date:25/08/2006
Category:
ISBN:9780816648856