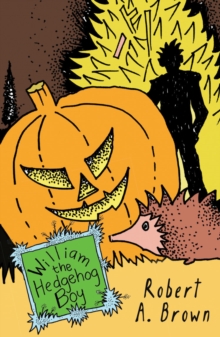 William the Hedgehog Boy : How one incident can change everything
Paperback / softback
Description
When William, a lonely, young schoolboy with a quick temper, comes across a group of boys hurling sticks at a defenceless hedgehog, he bravely chases them off and takes the injured animal to the vets.
After nursing the hedgehog, who he names Lucky, back to health, William is heartbroken when the vet explains that he must release her back into the wild.
As Lucky journeys back to her den, she encounters a hideous monster with sharp, jagged teeth and a huge hedgehog.
Eventually, battered and bruised, Lucky finds a new den in a large pile of firewood, perfect for hibernation.
Meanwhile, William finds himself in trouble, almost being killed by a speeding car, knocking cans of paint over his stepdad's precious car and waking his parents in the dead of night in his efforts to find Lucky.
School isn't any better, as the school bully is making William's life miserable.
Then a surprise phone call changes everything for William, and in a thrilling climax, he is called into heroic action.
Will it be enough to save a young boy and his best friend?
Told from the viewpoint of a young boy and a rescued hedgehog, William the Hedgehog Boy contains a useful section with information about how to protect hedgehogs.
Through the story, Robert hopes to inform young readers about the dangers faced by hedgehogs, especially on Bonfire Night when they like to make their dens in bonfires in readiness for hibernation.
Inspired by the work of Michael Morpurgo and Dick King Smith, William the Hedgehog Boy will be enjoyed by readers aged 9-11 with an interest in wildlife.
It will also appeal to organisations that promote hedgehog welfare.
Information
Format:Paperback / softback
Pages:160 pages
Publisher:Troubador Publishing
Publication Date:28/05/2017
Category:
ISBN:9781788037471