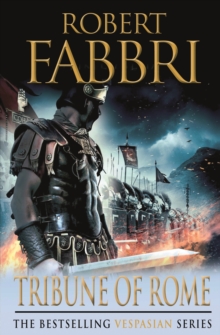 Tribune of Rome
Paperback
Part of the Vespasian series
Description
AD 26: Sixteen-year-old Vespasian leaves his family farm for Rome, to find a patron and join the army.
But he discovers a city in turmoil and an Empire on the brink.
The ageing emperor Tiberius is in seclusion on Capri, leaving Rome in the iron grip of Sejanus, commander of the Praetorian Guard whose spies are everywhere.
Vespasian is out of his depth, making dangerous enemies (and dangerous friends - like the young Caligula) and soon finds himself ensnared in a conspiracy against Tiberius.
Vespasian flees the city to take up his position as tribune in an unfashionable legion on the Balkan frontier.
Unblooded and inexperienced, he must lead his men in savage battle with hostile mountain tribes.
But there is no escaping the politics of Rome. Somehow, he must survive long enough to uncover the identity of the traitors behind the growing revolt... THE FIRST INSTALMENT IN THE VESPASIAN SERIES
Information
Format: Paperback
Pages: 496 pages
Publisher: Atlantic Books
Publication Date: 01/11/2011
Category: Historical fiction
ISBN: 9781848879119
Free Home Delivery
on all orders
Pick up orders
from local bookshops