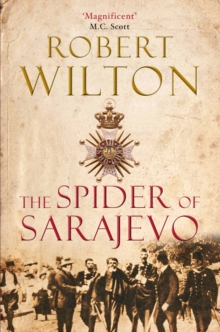 The Spider of Sarajevo
Hardback
Description
From the secret archives of the Comptrollerate-General for Scrutiny and Survey Summer 1914: Europe is on the brink.
As Britain's enemies grow stronger, the Comptroller-General must confront the man with whom he has struggled for a generation - a man he knows only as the Spider.
In a desperate gamble, he sends four agents out across the continent, on a mission they do not understand...
The future of British intelligence - of the British Empire - is in their hands.
Not all of them will return. Unique and resourceful, hunted and deceived, they have embarked on a journey that will climax in the town of Sarajevo on the 28th of June 1914.
Information
Format: Hardback
Pages: 416 pages
Publisher: Atlantic Books
Publication Date: 05/06/2014
Category: Historical fiction
ISBN: 9781782391913
Free Home Delivery
on all orders
Pick up orders
from local bookshops
Reviews
Showing 1 - 1 of 1 reviews.
Review by passion4reading
16/06/2015
In the spring of 1914, amid increasing tensions between nations and ethnicities in Europe, an old man in London is preparing what might be his last opportunity to trap the Spider, a master of spies and his long-standing enemy, and reveal his identity. Consequently, he sends out four civilians from different backgrounds and of very different characters – three men and one woman – to gather information on the continent and to report back to him their impressions. But soon other and more hostile agencies become aware of their existence and before long track their every move …I admit this is a difficult book to review, as essentially not very much happens, but it is gripping and incredibly tense nonetheless as the author plays fiendishly clever mind games and occasionally requires the reader to pay close attention and join up the dots themselves. Once again I can only marvel at the author's impeccable research – he asserts that parts of the novel are based on previously unpublished documents by the enigmatic Comptrollerate-General which made appearances in his two other books – as the atmosphere he creates is one of the European nations on the brink of war, with only reports here and there of increasing arms shipments and foreign currencies being converted to gold, but nothing substantial, and Britain and Germany to all intents and purposes still playing at allies with a joint regatta of their navies. The novel literally starts with a bang, but then takes a little while to get going again; once the four agents have been sent on their respective ways, the stakes are raised as they are essentially on their own, with no set objective to follow, and have to rely on their wits. Robert Wilton resorts to a very clever stylistic ploy to increase the urgency and tension, which probably not everyone will appreciate as it makes following the individual plot strands more difficult and is quite disorientating at first, but in my opinion proves very effective, and I raced through the pages and had to force myself to stop reading from time to time to sleep or look after my family.As spring turns to summer and events start to spiral out of control, it was more than a little disappointing to find that the denouement, despite a major twist and a surprising (slightly forced?) coincidence, rather fizzled out and ended quite abruptly, with one or two questions still left unanswered. But, up till then, I have to award the author full marks for delivering a novel with such skill and panache.Where and when will the next published case files of the Comptrollerate-General take us?
Also in the THE ARCHIVES OF THE COMPTROLLERATE-GENERAL FOR SCRUTINY AND SURVEY series | View all