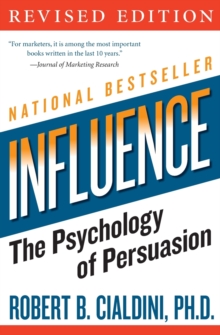 influence : The Psychology of Persuasion
Paperback
Description
Influence, the classic book on persuasion, explains the psychology of why people say "yes"-and how to apply these understandings.
Dr. Robert Cialdini is the seminal expert in the rapidly expanding field of influence and persuasion.
His thirty-five years of rigorous, evidence-based research along with a three-year program of study on what moves people to change behavior has resulted in this highly acclaimed book. You'll learn the six universal principles, how to use them to become a skilled persuader-and how to defend yourself against them.
Perfect for people in all walks of life, the principles of Influence will move you toward profound personal change and act as a driving force for your success.
Information
Format: Paperback
Pages: 336 pages
Publisher: HarperCollins Publishers Inc
Publication Date: 26/12/2006
Category: Popular psychology
ISBN: 9780061241895
Free Home Delivery
on all orders
Pick up orders
from local bookshops
Reviews
Showing 1 - 5 of 7 reviews.
Previous | Next
Review by itst
16/06/2015
This book was recommended to my by a collegue & friend. We are working in the field of online community management.Mr Cialdini shares a lot of stories and thoughts on the subject at hand. Each "technique" is backed by examples and narrated studies (complete with references). In contrast to other books on this subject is seems very well recherched and is, despite the topic, fun to read.
Review by realistTheorist
16/06/2015
Using a wide range of examples, from salesmen to prison interrogators to data gathered in sociology experiments, Cialdini shows various methods used to influence people.He classifies the "influences" into major categories, and provides suggestions about how to deal with them.Unlike some other authors, Cialdini does not take a cynical attitude and conclude that we're all irrational, because we can be influenced. His is a positive and scientific approach. He explains why we might make certain errors and be influenced in certain ways, and shows that there ways to correct our mistakes.Not an earth-shattering book if one has read similar ones (say, about sales-techniques). If one has not, then this is a good place to start.
Review by rightantler
16/06/2015
This is a classic. Covering Reciprocity, Commitment and consistency, Social proof, Liking, Authority and Scarcity it is a definitive introduction to how we are influenced. Many of the examples may now seem old hat, but a quick study of tv advertising suggests that they are more relevant not less.
Review by ennui2342
16/06/2015
Required reading for all marketing professionals. The book details the most common approaches to influencing the decisions of others, backed up by the authors time spent infiltrating direct marketing companies and the like. Offers handy hints on how to spot when you're being manipulated and how to handle it.A very enjoyable read, should leave you much more aware of how you're being played next time you're in the market for a used car.
Review by red.yardbird
16/06/2015
Been wanting to read something by Cialdini for a while, actually ever since I listened to one of his lectures - which was great. A day after I finished it, someone stopped us in the street selling timeshare. The commitment-consistency; contrast & reciprocity techniques were all there in the pitch (...and we didn't buy) [Sep-07:]
Also in the Collins Business Essentials series | View all