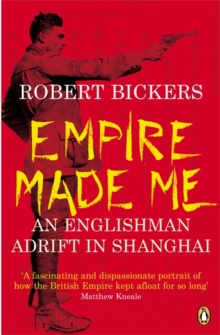 Empire Made Me : An Englishman Adrift in Shanghai
Paperback
Description
'This is a biography of a nobody that offers a window into an otherwise closed world.
It is a life which manages to touch us all...' Empire Made Me Shanghai in the wake of the First World War was one of the world's most dynamic, brutal and exciting cities - an incredible panorama of nightclubs, opium-dens, gambling and murder. Threatened from within by communist workers and from without by Chinese warlords and Japanese troops, and governed by an ever more desperate British-dominated administration, Shanghai was both mesmerising and terrible.Into this maelstrom stepped a tough and resourceful ex-veteran Englishman to join the police. It is his story, told in part through his rediscovered photo-albums and letters, that Robert Bickers has uncovered in this remarkable, moving book.
Information
Format: Paperback
Pages: 416 pages, 16 b&w illustrations
Publisher: Penguin Books Ltd
Publication Date: 03/06/2004
Category: Biography: general
ISBN: 9780141011950
Free Home Delivery
on all orders
Pick up orders
from local bookshops
Reviews
Showing 1 - 1 of 1 reviews.
Review by Opinionated
27/08/2015
At one level, this is a biography of Robert Maurice Tinkler, working class Lancashire lad, decorated and gallant WW1 soldier, and detective in the Shanghai Municipal Police (SMP), eventually killed in an incident with Japanese troops largely due to his own aggressiveness. But of course, although Tinkler's life is better documented than many, there isn't really enough material for this to work. Tinkler keeps up with his family and a sweetheart intermittently until 1930 and then drops off the grid - leaving the police and travelling in the US before making his way back to Shanghai and taking a series of jobs of ever declining status before a death that forced the Empire to reclaim him as one of their ownThere are 36 letters and only the remembrances of a few ex colleagues, but no old friends, and a few peripheral mentions from which to build a life. And this seems a little unfair to Tinkler; his letters home, bristling with class resentments at his subordinate status in Shanghai, and full of racial predjudices that were probably common place at the time, but 85 years later do him little credit, can only paint a superficial picture. He does seem to have let himself go with drink and marginally respectable Russian girlfriends, mistresses and prostitutes. But really we don't know - and there are years for which there is no evidence at allFor Bickers, Tinkler's story is the story of Empire writ small. Many of the Empire's servants lived out their lives as government employees or private entrepreneurs in a staggering breath of locations. Tinkler's SMP intake of 1919 turn up later in Australia, New Zealand, Borneo, Africa, India - anywhere the Empire made its mark , its servants were there. And it is a part of history that is often forgotten, with the wave of anti colonialism of the 60s and 70s; its probably fair to suggest that in many ways Tinkler and his comrades are to some degree representative of the working class Empire experienceBickers also writes at length and knowledgeably of the history of the SMP and Shanghai local politics in the between war years. Probably there is too much of this; the minutae of who won what SMP election and why gets a bit dull . But my main complaint would be the lack of maps. Its all very well to reference Tinkler's transfer to a certain station "far from the action"- the lack of a map to demonstrate this is a bit irritating. I know Shanghai reasonably well and I was getting lost in some of the locational details. If you are going to highlight the difficulties of the SMP in having jurisdiction in a tightly defined area of Shanghai, then it would be as well to show that areaOverall a good book, but one that in my opinion needed some firmer editing.