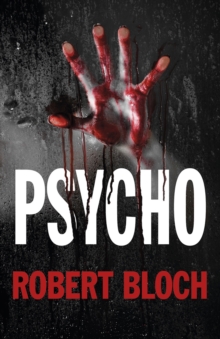 Description
She was a fugitive, lost in a storm. That was when she saw the sign: motel - vacancy. The sign was unlit, the motel dark. She switched off the engine, and sat thinking, alone and frightened.
She had nobody. The stolen money wouldn't help her, and Sam couldn't either, because she had taken the wrong turning; she was on a strange road.
There was nothing she could do now - she had made her grave and she'd have to lie in it.
She froze. Where had that come from? Grave. It was bed, not grave. She shivered in the cold car, surrounded by shadows.
Then, without a sound, a dark shape emerged from the blackness and the car door opened.
Psycho is not a tale for queasy stomachs or faint hearts.
It is filled with horrifying suspense and the climax, instead of being a relief, will hit the reader with bone-shattering force.
Information
Format: Paperback
Pages: 192 pages
Publisher: The Crowood Press Ltd
Publication Date: 01/02/2013
Category: Crime & mystery
ISBN: 9780719810817
Other Formats
Paperback from £7.35
eAudiobook MP3 from £6.29
Free Home Delivery
on all orders
Pick up orders
from local bookshops
Reviews
Showing 1 - 1 of 1 reviews.
Review by elliepotten
16/06/2015
"You're a Mamma's Boy. That's what they called you, and that's what you were. Were, are, and always will be. A big, fat, overgrown Mamma's Boy!" I didn't even know Psycho was originally a novel until very recently, but since I wanted to watch the film this year in the run-up to Hallowe'en I thought maybe I should bite the bullet and read the book as well! By now most people know the basics - Norman Bates, lonely motel, a girl murdered in the shower, a psychotic mother - but it was interesting for me to go back to the original and fill in the gaps before I watched the now-iconic Hitchcock movie. The rest of the story was new to me! It opens with Mary Crane stealing forty thousand dollars and taking off, with the intention of passing it off as inheritance money and giving it to her fiance Sam, who has refused to get married until he has finish paying off his late father's debts. Losing her way en route to Sam's town, she ends up at the Bates Motel, where she meets overweight, bookish Norman, who runs the motel and cares for his sick elderly mother despite her constant venomous nagging. That night the supposedly infirm old woman, jealous of Norman's attraction to their pretty guest, kills Mary, sparking off a chain of events that will pull Norman deeper and deeper into darkness and put everyone Mary loves in danger too... It's actually quite a gripping little novel despite its age - it was first published in 1959 - and if the twist wasn't now so famous it would have been even more effective as a thriller. Of course, the film has now eclipsed it almost entirely, and in my mind I read the whole thing in that half-English-sounding posh movie-star American accent that is so ubiquitous in old black and white movies. The psychology behind the villainy is quite fascinating - Norman seems to know quite a bit about it already - and Norman's inner monologues have a kind of intoxicating, brutal poetry to them as he rattles through his conflicting thoughts and emotions. It was a quick read, but I'll definitely be keeping hold of it to reread again in the future.