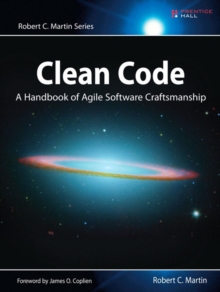 Clean Code : A Handbook of Agile Software Craftsmanship
Paperback
Description
Even bad code can function. But if code isn't clean, it can bring a development organization to its knees.
Every year, countless hours and significant resources are lost because of poorly written code.
But it doesn't have to be that way.Noted software expert Robert C.
Martin presents a revolutionary paradigm with Clean Code: A Handbook of Agile Software Craftsmanship.
Martin has teamed up with his colleagues from Object Mentor to distill their best agile practice of cleaning code "on the fly" into a book that will instill within you the values of a software craftsman and make you a better programmer-but only if you work at it.What kind of work will you be doing?
You'll be reading code-lots of code. And you will be challenged to think about what's right about that code, and what's wrong with it.
More importantly, you will be challenged to reassess your professional values and your commitment to your craft.Clean Code is divided into three parts.
The first describes the principles, patterns, and practices of writing clean code.
The second part consists of several case studies of increasing complexity.
Each case study is an exercise in cleaning up code-of transforming a code base that has some problems into one that is sound and efficient.
The third part is the payoff: a single chapter containing a list of heuristics and "smells" gathered while creating the case studies.
The result is a knowledge base that describes the way we think when we write, read, and clean code.Readers will come away from this book understandingHow to tell the difference between good and bad code How to write good code and how to transform bad code into good code How to create good names, good functions, good objects, and good classes How to format code for maximum readability How to implement complete error handling without obscuring code logic How to unit test and practice test-driven developmentThis book is a must for any developer, software engineer, project manager, team lead, or systems analyst with an interest in producing better code.
Information
Format: Paperback
Pages: 464 pages
Publisher: Pearson Education (US)
Publication Date: 01/08/2008
Category: Software Engineering
ISBN: 9780132350884
Free Home Delivery
on all orders
Pick up orders
from local bookshops
Reviews
Showing 1 - 5 of 7 reviews.
Previous | Next
Review by caike
16/06/2015
I would recommend this as a must read for Java programmers, along with Joshua Bloch´s 'Effective Java'.Programmers using other languagens should also read, since the concepts listed in this book apply to a broad range of platforms.
Review by harpua
16/06/2015
I don't tend to read a ton of books that pertain to my profession. In the software development field, technology moves along at such a fast pace that most tech books are outdated almost before they hit the shelves. The books I do enjoy in this genre are those that espouse some theory, techniques or ideas that are timeless and are applicable despite the technology. This is one of those such books. Every developer should read this one. Most of the concepts inside are common sense ideas, but ones that you may not realize are important. Definitely one that will gain a space on my shelf and which I shall refer back to from time to time as a refresher or to clarify some position. Great stuff, if you develop software, buy this book.
Review by twistedmind
16/06/2015
Excellent book about software development. A must read for everyone involved in development Java, C# or a similar language.Robert Martin explains why good coding practices are important, and how you can accomplish to code properly.
Review by epragt
16/06/2015
A really great book to read. I think it's a must read for software developers, for beginners as well as professionals. It helps a lot with the implementation details of software development. It answers questions for you like:- When to write documentation?- What are the steps to take when refactoring?- How important is naming in my code.The concepts are very well written. After reading the book and recommending it to my co-workers, it really felt the quality of our code was improving by applying the priciples written in the book. Like I said: a must read for every team involved in creating software!
Review by ebagdemir
16/06/2015
An excellent guide for the teams and the engineers which take care of agility, productivity and on the other hand quality in software craftsmanship. "The Clean Code" shows us the "clean" way how to work together effectively in a team and produce maintainable software in the long term and not only functional code stacks. The book points out how important the aspects like readability and consistency are - even in comments - in order to reduce bugs and increase robustness . You'll also find lots of refactoring examples by author which show us how to apply these rules iteratively and still improve our source code. The only critic about the book is the concurrency chapter. It is in my opinion superfluous since the concurrency issues and the best practices respectively can not be covered within a chapter and for that reason it remains superficial. But it is still one of the book which i would read more than once and keep it on my desk while i am coding.