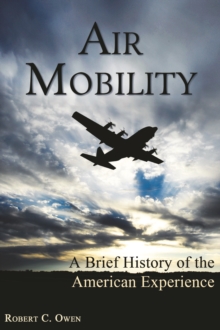 Air Mobility : A Brief History of the American Experience
Hardback
Description
Global air mobility is an American invention. During the twentieth century, other nations developed capabilities to transport supplies and personnel by air to support deployed military forces.
But only the United States mustered the resources and will to create a global transport force and aerial refuelling aircraft capable of moving air and ground combat forces of all types to anywhere in the world and supporting them in continuous combat operations.
Whether contemplating a bomber campaign or halting another surprise attack, American war planners have depended on transport and tanker aircraft to launch, reinforce, and sustain operations. Air mobility has also changed the way the United States relates to the world.
American leaders use air mobility to signal friends and enemies of their intent and ability to intervene, attack, or defend on short notice and powerfully.
Stateside air wings and armoured brigades on Sunday can be patrolling the air of any continent on Wednesday and taking up defensive positions on a friend's borders by Friday.
This capability affects the diplomacy and the calculations of America and its friends and enemies alike.
Moreover, such global mobility has made America the world's philanthropist.
From their earliest days, American airlift forces have performed thousands of humanitarian missions, dropping hay to snow-bound cattle, taking stranded pilgrims to Mecca, and delivering food and medicine to tsunami-stricken towns. Air Mobility examines how air power elevated the American military's penchant for speedand ability to maneuver to an art unequalled by any other nation.
Information
Format: Hardback
Pages: 400 pages
Publisher: Potomac Books Inc
Publication Date: 01/08/2013
Category: Military aircraft
ISBN: 9781597978514
Free Home Delivery
on all orders
Pick up orders
from local bookshops